Marks & Spencer has replaced Twiggy with an all-star line-up of "Britain's leading ladies" as it launches a new ad campaign designed to "celebrate women".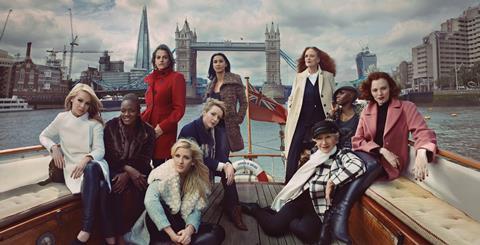 Shot by celebrity photographer Annie Leibovitz, the new ad stars, among others, Oscar-winning actress Dame Helen Mirren and artist Tracey Emin.
The retailer said the new ad, which launches on September 3, signals a "reassertion of M&S' leading quality and style credentials".
Marks & Spencer marketing director Steven Sharp told The Sunday Times: "We want to be taken seriously at the moment. This is designed as modern portraiture."
He added it was a "womanist campaign…designed to celebrate women. To whom clothes are presumably important".
Joining Mirren and Emin are Vogue creative director Grace Coddington, the British Journal of Nursing's 2011 nurse of the year Helen Allen, and Olympic boxer Nicola Adams, as Marks & Spencer aims to showcase "women from very diverse backgrounds and professions".
Marks & Spencer will hope the new ad campaign can revitalise its fashion sales, which have been in decline for two years. The retailer last month launched its new autumn collection, the first to be designed by style director Belinda Earl.
"When we get things wrong it gets very much noticed," said Sharp. "It's a bit like being scolded by your parents, It's 'You must do better but I love you really'. That's the attitude."
He added: "We wanted to mark this moment with a confident statement about UK style. The British have a history of being creative and pioneering and these women represent just that. As industry leaders in their field, they make a significant difference that has seen them break boundaries, challenge stereotypes and create visionary artistic work. As the nation's biggest retailer, we too have broken boundaries throughout our history and it's this unique position in the marketplace that has enabled us to bring together this remarkable group of people."
Patrick Bousquet-Chavanne, Marks & Spencer's executive director of marketing and business development, said: "We wanted this campaign to signal a new and confident tone of voice to introduce autumn. Annie was the perfect choice to shoot a campaign of this magnitude. Annie's photography has become synonymous with defining key moments in the history of brands over the years and, as such, we feel that this campaign is the ideal way to illustrate M&S's move into a new era."
The all-star line up:
Nicola Adams Olympic Gold winning boxer
Monica Ali Award-winning author
Helen Allen Nurse of the Year 2011
Darcey Bussell Retired principal ballerina at The Royal Ballet
Grace Coddington Creative director of US Vogue
Karen Elson Supermodel and singer
Tracey Emin Artist and professor of drawing at the Royal Academy
Ellie Goulding Multiplatinum global recording artist/Brit Award winning Singer/Songwriter
Helen Mirren Multiple award-winning actress
Laura Mvula Breakthrough singer/songwriter
Katie Piper Burns survivor, television presenter and charity campaigner.
Jasmine Whitbread Chief executive of Save the Children International