Harrods has launched a scent-emitting bus stop to draw customers' attention to a floral takeover of its store that celebrates summer.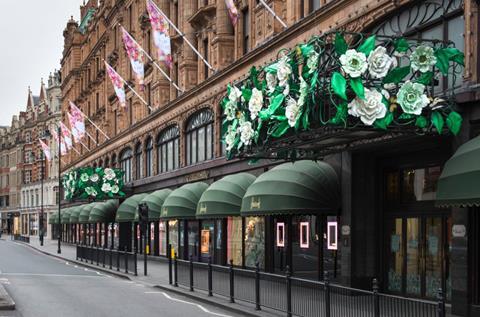 The bus stop at Hyde Park Corner will emit a floral scent to publicise the full experiential marketing campaign taking place at its store, which it is running in collaboration with 22 luxury brands.
White peonies and roses have been installed at the Brompton Road entrances and the scent of Easter lilies will be emitted in the store.
Brands including Dior, Prada and Versace have been invited to create window displays on the Brompton Road side of the shop as part of the campaign.
Harrods estimates it will use 2,000 flowers and 40 litres of perfume during the in-store marketing activity that runs throughout May.
The luxury department store has also installed an interactive 'flower wall' at the entrance to its Salon de Parfums on the sixth floor.
Customers are being invited to pick paper flowers form the wall and remove their petals for the chance of winning a prize.
Prizes include a stay at the Mandarin Oriental Hong Kong and £1,000 in-store credit.
The final element of the campaign includes a garden at the Chelsea Flower Show. Garden designer Sheena Seeks has been hired by the retailer to create 'The Fragrance Garden', which will be "a celebration of perfume through the medium of flowers".