Ad generates 6 million YouTube views
More views of 'Man on the Moon' than of 'Monty the Penguin'
'Bear and the Hare' retains top spot by views
Data: John Lewis' latest Christmas advert, unveiled last Friday, has already generated more than 6 million views on YouTube.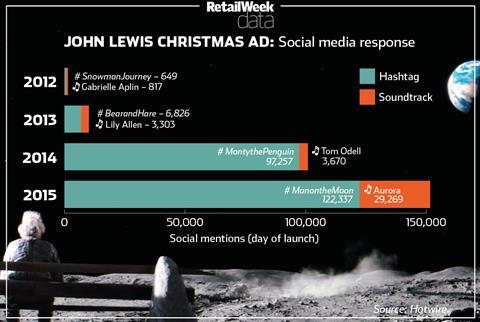 There have been about 6.3 million views of the ad, featuring the 'Man on the Moon', since Friday City AM reported.
According to Hotwire, an hour after launch, #ManontheMoon received 16,396 mentions on social media, while Aurora – who provided the soundtrack – received 4,449 mentions.
The number of views means that John Lewis' seasonal ad is already ahead of last year's 'Monty the Penguin' campaign, which clocked up 4.1 million views in its first day.
It is, however, behind 2013's 'Bear and the Hare' ad, which drew 13 million views within 24 hours.
The Man on the Moon ad highlights the loneliness suffered by some old people at Christmas as well as promoting the department store group.
It is the latest in a series of cinema-style ads by John Lewis, whose seasonal campaigns have become a feature of the build-up to Christmas.
John Lewis rival Marks & Spencer, which also unveiled its festive advertising last week, took a different approach.
M&S opted for a 'mobile-first' campaign, which marketing boss Patrick Bousquet-Chavanne likened to a video box-set rather than a movie-style blockbuster.
Last week a raft of big-name retailers, including Asda, Currys and Lidl, also released their Christmas ads.