Harveys' new campaign strategy moves away from solely price-led promotions with a series of adverts that shows the shopper's decision-making process when buying furniture.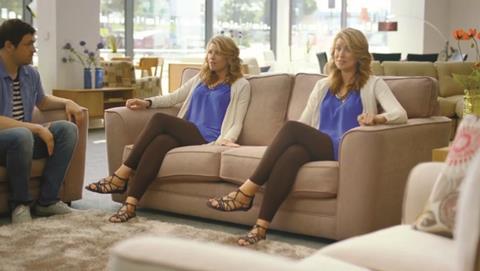 The TV ads, created by recently appointed agency Über, catch the eye as the shopper appears to split in two, with one alter-ego focusing on style and quality, while the other considers price and affordability.
One ad follows a couple browsing a Harveys store. One version of the husband states his purpose is to find some "nice stuff for the house", while his more money-conscious side adds: "What he means is we're here for the massive savings."
Another ad is set at a house warming party, where one side of a woman's personality pushes her 'other side' to ask her friend if she bought her furniture on credit.
Harveys head of marketing Iolanda Hudson told Retail Week: "The new creative expresses the emotions you go through when making any purchase. It addresses the questions you ask yourself: 'I want style and quality, but what about the price?'"
The light-hearted ads end with the strapline 'Giving you more for less' and highlight a 50% off promotion to reiterate Harveys' value position.
Buying a big-ticket item such as furniture is one of the most thought-through purchases a consumer will make and, by smartly putting the decision-making process at the centre of its ads, Harveys highlights why its product and price offer should be considered.
Although the campaign runs at the same time as the Office of Fair Trading investigates six of UK's largest furniture retailers, including Harveys, over their Sales practices, the ad should prompt shoppers to think of Harveys for furniture they not only desire but can afford.