Boots has teamed up with breakfast cereal Weetabix to enable customers to purchase a breakfast snack with a picture of it.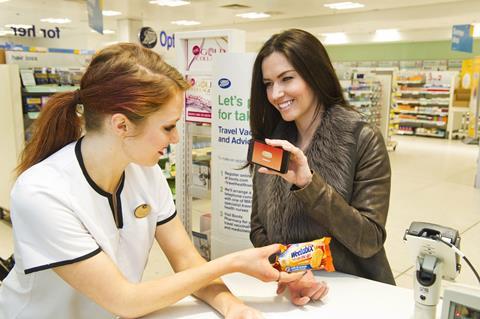 Health and beauty retailer Boots will be the first company to trial the pay-by-picture project.
The scheme works by customers taking a picture of a pack of Weetabix On The Go biscuits on their smartphones. They will then be able to use the image at the Boots till to buy the product, which usually retails at 55p, tomorrow.
Weetabix will launch the new initiative in a television advert set to air on ITV during Emmerdale at 7.15pm tonight.
A Weetabix spokesman said: "There is huge value in people taking pictures of our new products and sharing the images amongst their friendship groups so we're excited to be the first company to try this in partnership with Boots.
"It is undoubtedly a brave move to replace financial currency with social currency, but we're hoping that the 55% of people that currently use their smartphone whilst watching TV will take part in the unique retail initiative, try our new breakfast biscuit and become long-term customers."