Asda is trialling clickable ad technology on its own website with a view to rolling it out to third-party brand websites.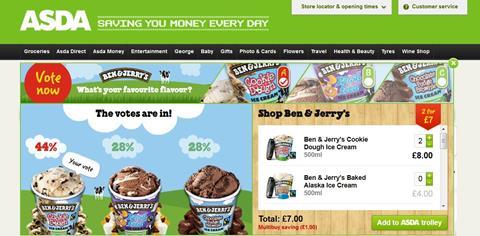 The grocer has teamed up with brands as part of the pilot, which enables shoppers to add products to their basket with one click on an ad on the grocer's homepage.
Asda eventually aims to extend the initiative, which also works on mobile, to third-party websites, including brands' sites and YouTube, meaning customers can add to one basket from a range of different sites.
Asda head of strategy, sales and innovation Nick Bamber likened it to "stopping the consumer in a [store] entrance foyer and asking 'if you like the new product, put it in the basket now'".
He said it is the first time shoppable ads have been launched across parent Walmart.
Asda has trialled products including own-brand biscuits and Ben & Jerry's ice cream. To increase customer engagement, the ad features a poll asking shoppers to vote on, for instance, their favourite Ben & Jerry's flavour from a choice of three. They can then add it to their Asda basket with one click. Asda already runs similar polls on its Facebook page.
Bamber said: "Our teams are always looking for new ways to engage with our customers to help make our shopping easier, quicker, and more convenient – extending our digital advertising formats to include shoppable technology is just one of the ways we are doing this."
Bamber added the tool has "provided us with a new way for shoppers to interact with our digital ad and helps us make it easy for consumers to add to their basket and for brands to realise some direct ROI from their digital ads across our estate".
Asda is working with tech firm Constant Commerce on the trial.