Argos is launching the biggest marketing campaign in the company's history as it seeks to shift perceptions to reflect the digital transformation of the business.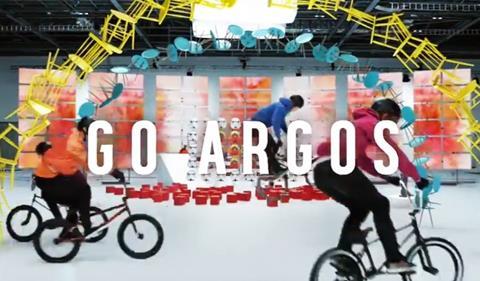 The retailer is spending in excess of £10m on the 'Get set Go Argos' campaign that aims to reflect the accumulation of new services including its hub and spoke model, free click-and-reserve service and its eBay partnership.
Argos marketing director Stephen Vowles said: "We need to send a signal of change out to make people reassess us. We feel what we are building is really something quite unique and not something that is just slightly different from high street retailers and pure-play retailers and positions us in a category of one."
The marketing campaign is dropping the alien characters in favour of "bold colour, high energy and white space" and is being supported by an overhaul of the uniforms and other assets including carrier bags and lorries.
Argos is dropping the light blue from its carrier bags and lorries in favour of white space and colour explosions.
Uniforms for a digital world
New uniforms have been redesigned to fit a "digital retail world" including loops on the side of the shirt and a battery pack holder on the trousers to accommodate the headsets worn by the stock-room team.
The new black polo shirts with a white logo and red and grey secondary colours will be rolled out to 100 stores before Christmas, including the company's digital-format stores, specially selected London locations and stores that are used to trial new features.
Marketing activity will focus on brands customers might not expect to find in Argos including Beats, Dualit, Dyson and Habitat.
The campaign will include the company's first cinema and national billboard adverts and is designed to appeal to both loyal customers and the 30% of households who do not traditionally shop at Argos.
Category of one
Vowles said in the past Argos marketing has focused on families but believes now the retailer does not need to "skew" itself because it is in a "category of one".
Vowles comments about Argos being in its own category came after it was reported Amazon is launching its first bricks-and-mortar store as it seeks to emulate the Argos and eBay partnership.
Vowles would not comment on the Amazon store, but said: "We are convinced the combination of a leading digital presence with having items in stock, in the local market, in the here and now, where you can collect them or get them delivered quickly, is absolutely what customers want and where the growth and expansion is going to be. We feel we are incredibly well positioned to capitalise on that."
Argos launches biggest ever marketing campaign to signal digital transformation
1

Currently reading

Argos launches biggest ever marketing campaign to signal digital transformation

2