Retailers have traditionally remained neutral on political and social issues, but times are changing. Should your brands take a stance on contentious matters? 
Today's shoppers want more from the retailers they shop with at a time when politics is becoming more divisive, as the polarised views on Brexit and US President Donald Trump illustrate. Consumers expect brands to join the conversation and take a stand.
Nearly two-thirds (64%) of consumers will buy or boycott a brand solely because of its position on a social or political issue, according to the 2018 Edelman Earned Brand study. This is up 13 points from last year, illustrating just how important this is for consumers.
Earlier this month, shoppers – including celebrities such as 50 Cent – boycotted Gucci after it created a jumper resembling 'blackface'. Gucci has since withdrawn the black balaclava jumper, which covered the bottom half of the face and has a cutout mouth with large red lips.
"Brands are now being pushed to go beyond their classic business interests to become advocates"

Richard Edelman, Edelman
The survey found that consumers actually believe that brands are a more powerful force for societal change than government.
Brands are already standing up and being heard. Iceland tried to use its Christmas advert last year to highlight the devastating effect that palm oil production has on rainforests.
The ad, a rebadged Greenpeace film, was banned from TV as it was deemed 'political advertising', but generated a tidal wave of publicity and more than 70 million views on social media.
Edelman president and chief executive Richard Edelman says consumers are electing brands to be "change agents".
"Brands are now being pushed to go beyond their classic business interests to become advocates. It is a new relationship between company and consumer, where purchase is premised on the brand's willingness to live its values, act with purpose and, if necessary, make the leap into activism."
The brands taking a stand
The Body Shop is one retailer that has embraced this trend. The retailer, which has long challenged on social and environmental issues, last month revealed it would turn stores into "activist hubs", where in-store teams across the country will help customers run local projects.
The ethical beauty retailer said it wants to put "activism at the heart of its brand strategy".
Meanwhile, rival Lush has also put environmental concerns at its core since launching more than 20 years ago.
The health and beauty retailer refuses to test on animals and supports campaigns such as the Hunt Saboteurs Association and Plane Stupid, which campaigns against the expansion of the airline industry.
Lush ethics director Hilary Jones welcomes the wider move towards retail activism – but dislikes the idea companies are only adopting causes to placate consumers.
She says: "Doing business in as fair and careful a way as possible should be the normal way to do business and should be a given. Should there ever be Unfairtrade?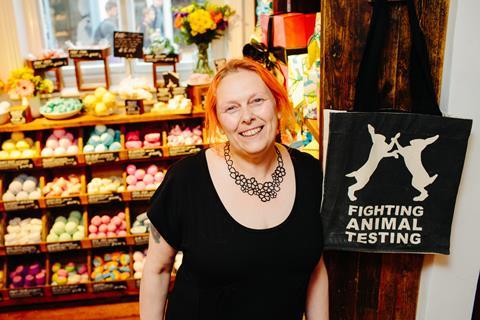 "We have never understood why business should be held to lesser standards than personal behaviour and standards."
Heidi Christ, global lead for Made 51, a UNHCR (the UN Refugee Agency) brand selling artisan crafts and clothing made by refugees, says it's not just a passion for doing the right thing that is driving shoppers away from mass-produced 'fast fashion'.
She says: "What we hear from customers around the world is that they want products that represent them and their values. So rather than contribute to waste they want to buy things that have meaning.
"People like the stories behind the products and want to hear what heritage and skills are used when they are created.
"They want to know there is someone who made the product and they have a name and identity and they want to feel a connection with people around the world."
But in this increasingly polarised political climate, brands can be viewed as taking a stand without there being any intention to do so.
Neil Stern, partner at US retail strategist McMillan Doolittle, cites the example of Wegmans, a regional supermarket chain in the US, which in 2017 was berated by consumers for stocking wine from the Trump Winery, something it did long before the unpopular president's election victory.
Stern explains: "If you take it off shelves you've made a political statement – and if you keep it on the shelves you've made a political statement."
Wegmans kept selling the wine, stating: "How a product performs is our single measure for what stays on our shelves and what goes."
A competitive advantage?
But can taking a stand on political and societal issues pay off for brands? Yes, says Phil Hall, founder and chair of PR firm The PHA Group.
"As next-gen spending power is unleashed into the world, brands are waking up to the fact that being ethical, honest and conscientious can be competitive differentiators for their business," he says.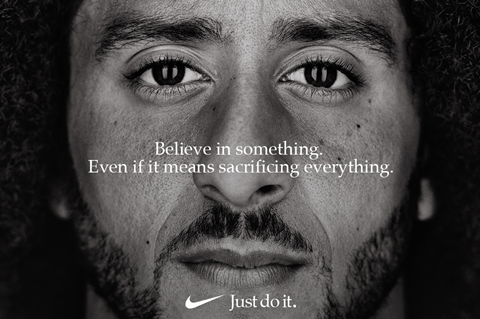 "These factors impact many aspects of consumers' lives and decision making – including purchasing decisions – from fashion to food."
The Edelman study showed that consumers are just as likely to be driven to purchase after seeing values-led communication as they are with product-focused messaging, but value-based marketing was found to be more effective in driving brand advocacy.
However, it must be noted that Iceland did not gain any sales uplift over the Christmas period despite all the headlines about its stance on palm oil. Like-for-like sales fell 1% over the 16 weeks to January 4 and Iceland managing director Richard Walker told the Financial Times that it was "slightly disappointing" that the advert had not resulted in a sales boost.
But its sustainability stance has lifted customer perception of Iceland. The frozen-food specialist was voted the UK's top supermarket for customer service earlier this year by The Institute of Customer Service, and it rated highly on the emotional connection and ethics metrics.
The supermarket scored 81.7 for its emotional connection and 80.9 for ethics.
The potential for backlash
Taking a stand on contentious issues comes with risk. As much as some consumers will feel more of an affinity with brands over the stance they take, others will be repelled.
Take Nike. The sportswear giant chose Colin Kaepernick, an outcast American football player and civil rights activist, as the face of its global advertising campaign last year.
Kaepernick is a polarising figure in the US following his kneeling during the national anthem before games in protest of racial injustice and police brutality in the country.
"Being unethical is more likely than ever to deter customers and pose a risk to business when it's uncovered"

Phil Hall, The PHA Group
Opponents took to social media, threatening to destroy Nike products. On Twitter, they hit out at the deal using the hashtag #JustBurnIt – a play on Nike's 'Just Do It' slogan. The #JustBurnIt hashtag trended alongside #BoycottNike.
However, Nike chief executive Mark Parker told analysts in late September – a few weeks after the campaign launched – that it had sparked "record" engagement and was driving sales.
He said: "It's resonated quite strongly with consumers, obviously here in North America, but also around the world. Like many campaigns, it's driving a real uptick in traffic and engagement, both socially as well as commercially."
Explaining your stance
Execution is hugely important when taking a stand over contentious issues. Lush, which is known for taking a stand on political and societal issues, launched an advertising campaign last year that addressed the scandal of undercover police officers forming relationships with the women they were employed to spy on.
The #SpyCops campaign saw Lush storefronts decorated with fake police tape emblazoned with the slogan "Police have crossed the line", and the retailer's social channels featured video clips about the controversy.
These simplistic marketing materials gave the impression the whole campaign was anti-police, and gave no context to the issue of undercover policing, so consequently faced a fierce backlash online from consumers.
Lush's Facebook page was bombarded with one-star ratings, and social media was flooded with the hashtag #FlushLush, which called for a boycott of the company.
Lush put out a statement to clarify its intention, saying it "fully supports [police] in having proper police numbers, correctly funded to fight crime, violence and to be there to serve the public at our times of need", and that it was only addressing "a controversial branch of political undercover policing that ran for many years before being exposed".
However, it soon dropped the campaign for "the safety of our staff".
Hall warns that businesses taking a stand on ethical and environmental issues need to be authentic and the stance needs to be aligned with brand values.
"Being ethical goes far beyond the marketing mix and must be reflected at the core of a brand for it to influence consumers and not just be a marketing gimmick," he says.
"The issue of environmental and social impact is still far from being 'essential' for brands, but it is largely expected. Social media makes anyone an investigative reporter, and being unethical is more likely than ever to deter customers and pose a risk to business when it's uncovered."
In fact, Iceland was slammed in the media earlier this year when it was found that, in a bid to meet its pledge to remove palm oil from all of its own-brand products by 2018, it had taken its branding off some items rather than remove the ingredients.
Iceland managing director Richard Walker insisted this was a website issue. "It is a technical glitch and obviously a massive own-goal by us," he told the Press Association.
As much as brands may benefit from taking a stand, they will be held to account for their actions on an issue.
Retail activism has become an important component of the retail marketing mix. It seems feel-good initiatives such as sponsoring a charity will no longer cut the mustard with the concerned consumer, and retailers may soon be forced to take a side on important matters.