Very few companies have had such a powerful effect on our collective conscience as Netflix.
The video streaming service has changed what we do with our spare time, how we consume entertainment and even our lexicon with 'Netflix and chill'.
So what's behind its performance? Here are five things retailers can learn from Netflix.
Give the people exactly what they want
Netflix's array of genres and subgenres looks impressive. But it's the big data equivalent of the swan gliding along the surface of the water while paddling furiously underneath.
According to some astonishingly labour-intensive research by US publication The Atlantic, Netflix has 76,897 ways to describe its content. Its variants go beyond 'horror movies' or '1980s horror movies' or even '1980s slasher horror movies'. In fact, a subcategory is more likely to read as '1980s teen slasher horror movies starring Jamie Lee Curtis'.
Despite this awe-inspiring catalogue, Netflix never shows users the full extent of its categorisation. Instead it uses it, along with the rest of its big data, to serve up eerily accurate recommendations.
Use data to make risks less risky
Netflix is now embarking on a big push towards creating its own series, pumping out original content such as breakthrough hit Stranger Things and making its creative efforts a big USP. It's also focused on securing exclusive rights to top shows such as House of Cards.
It paid $100m (£75.1m) for exclusive rights to two series of House of Cards. That works out at just under $4m an episode. It's eye-wateringly expensive bid paid off, but was not as much of a gamble as it might first appear.
It's important to remember that this was pre-House of Cards hype. It had great credentials – directed by David Fincher and starring Kevin Spacey – but was based on an old British political drama set after Margaret Thatcher's resignation. Perhaps not an obvious candidate for the next mainstream boxset.
But Netflix's wealth of data showed that the same subscribers who liked the original British mini-series were also fans of Kevin Spacey movies and David Fincher's directorial masterpieces. They mostly watched The Social Network without pausing, for instance.
Big data didn't make the decision, but it confirmed and guided human instinct.
Targeted advertising
Netflix uses big data to target its advertising. It knew that it was unlikely that just a single viewing segment would engage with House of Cards, for instance, and so decided to engage those segments as individually as it could.
Viewers who watched a lot of Kevin Spacey movies saw trailers that featured him, while viewers who watched a lot of 'films with a strong female lead' – another Netflix subcategory – saw trailers that featured Robin Wright and Kate Mara. Meanwhile, viewers who watched a lot of critically acclaimed films by renowned directors saw trailers that emphasised Fincher's directorial credentials.
Visualisation of big data
It's become commonplace for tech companies to talk about how crucial data interpretation is. After all, what's the point of masses of data if you can't get your head around it?
Netflix has made data visualisation into a fine art. It uses some of the most sophisticated big data and data visualisation technology on the planet to analyse its programme index images and make sure they are getting results.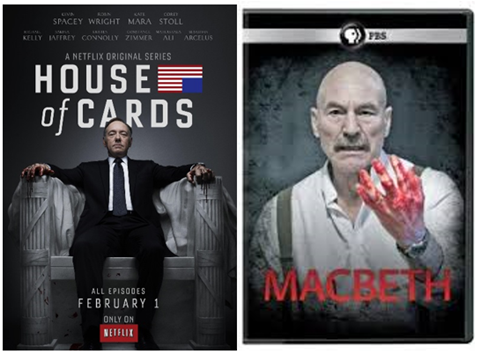 As Wired magazine identified, its cover for House of Cards mirrors the cover for Macbeth – both of which share similar themes – with the stars of each, Kevin Spacey and Patrick Stewart, pictured with blood on their hands on a moody grey background. Netflix's own tech blog shows just how similar, in fact.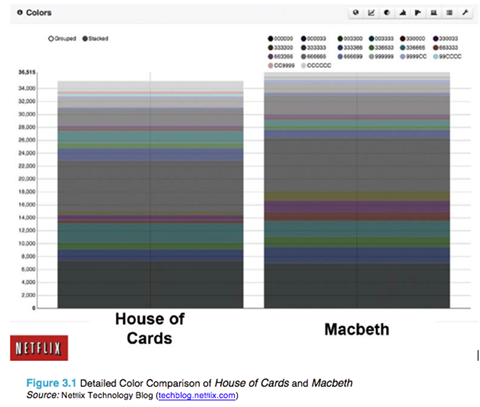 Netflix not only uses the method to engineer covers, it's also able to analyse the colour profile of the titles its users watch. Colours of images tend to reflect genres – pastels and bright colours generally equate to light comedies or rom coms while dark colours or reds reflect thrillers or horrors.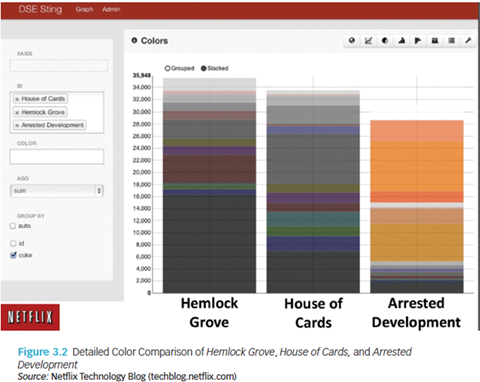 Tailored communication
Push notifications often irritate consumers, especially if they're trivial. Many businesses ignore this, choosing to gamble on whether their customers will be interested or annoyed by notifications.
Netflix doesn't take that chance. Instead, it adds personalisation to the mix and makes sure that it only interrupts customers in instances such as when the new series of their most-watched TV shows land on the site.
Essentially, Netflix ensures that if it's going to interrupt users' lives they will genuinely care about what it has to say and see it as a life-enhancing service, rather than an irritant.