Aldi has filed a writ at the High Court demanding Bargain Booze ceases an advertising campaign that lampoons the discount grocer.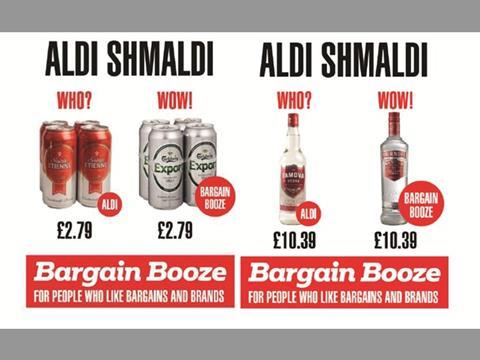 Aldi is also demanding £100,000 in damages as part of the legal attack it has launched on Conviviality Retail-owned Bargain Booze, according to The Mail on Sunday.
Bargain Booze's 'Aldi shmaldi' ad campaign plays off Aldi's own price comparison ads and compares the prices of branded products sold in Bargain Booze against those of own-brand goods sold by Aldi.
The campaign highlights the cost of Bargain Booze's branded products are the same as Aldi's own-brand equivalent.
Conviviality Retail chief customer officer Carol Savage said the campaign was a "cheeky twist on recent supermarkets' advertising campaigns" and reflected the "humour and personality" of the Bargain Booze brand.
Aldi launching the High Court action emerges shortly after Conviviality Retail agreed to buy drinks supplier Matthew Clark for £200m.
The deal is expected to give Conviviality Retail much greater buying power, which will allow it to be even more aggressive in taking on the grocers on price.
Conviviality Retail boss Diana Hunter told Retail Week that Conviviality "already competes really well" with the grocers on price and claimed the company is more than 10% cheaper on its promotions.