During the recession shoppers made a big effort to avoid wasting food – a trend which has persisted since the downturn ended.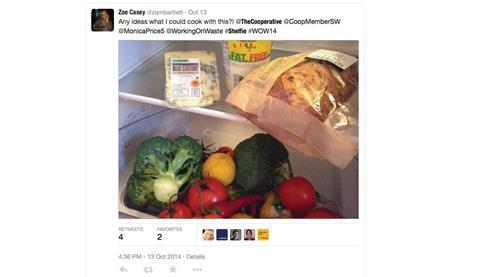 Waitrose's latest study on food shopping habits found that the quantity of food consumers chuck away has fallen by 21% over the last seven years.
The Co-operative Food has staged a campaign on social media designed to help shoppers minimise waste - an objective that sits well with its ethical heritage - which was fun rather than worthy, as some such initiatives can be.
Through its #shelfie campaign – part of a bigger 'Working on Waste' push – the Co-op encouraged consumers to tweet pictures of the contents of their cupboard and fridge shelves and in return received recipe ideas to ensure food was not wasted.
The Co-operative Food chief executive Steve Murrells said: "As a food retailer, we are in a position to help educate our staff and customers on how they can reduce their own household food waste.
"Throughout October we shared advice on a weekly basis with colleagues and customers to encourage them to reduce the amount they personally throw away. We had a great response and they are now sharing their own hints, tips and leftover recipes."