The electricals retailer is emphasising its value proposition to reassert itself in the market.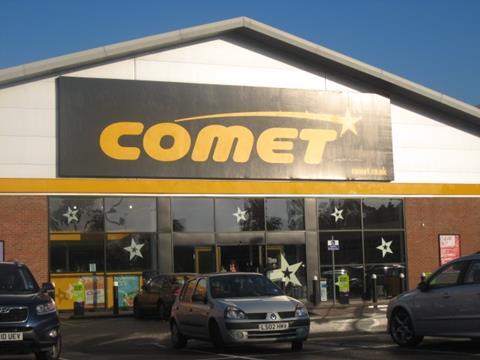 After its acquisition by private equity firm OpCapita for a mere £2 earlier this year, Comet has been regrouping and finding its relevance in the electricals market once again.
In a bid to reignite its spark, Comet is going back to its value roots. The strategy already seems to be showing positive results. Comet chairman John Clare told Retail Week this week that the business may break even or show a small EBITDA profit this year.
The improved trading, however, will in some ways not have been too difficult to achieve because Comet had been in decline for some years before OpCapita acquired it from Kesa in November 2011, with the deal officially concluded in February.
The embattled electricals chain's performance hit a low when it recorded a like-for-like nosedive of 22.1% in the quarter to July 31, 2011. Comet managing director Hugh Harvey parted ways with the retailer following the update, and veteran of the chain Bob Darke, who remains in the top seat, took over.
Undoubtedly, the big-ticket electricals market was, and still is, tough because of the difficult economic climate, but Comet had been floundering against a resurgent Dixons, not to mention the constant threat of growing online players and supermarkets' move into the category.
The heightened competition is reflected in Comet's market share, which had remained flat at about 13% of electricals sales until 2010-11, after which it started to fall, according to Retail Week Knowledge Bank. In Comet's last financial year, when it was still owned by Kesa, it made a £9m pre-tax loss.
OpCapita is the latest owner in Comet's 50-year history. The chain, which was originally founded in 1933 as a battery charging business, was acquired by Woolworths – then the embryonic Kingfisher – in 1984. It was demerged in 2003 to form a new group and takes its name from the acronym of Kingfisher Electricals S.A. (Kesa).
The retailer looked to experience from arch-rival Dixons in its turnaround efforts, hiring the market leader's former chief executive Clare as chairman of the new Comet. OpCapita operating partner David Hamid is also ex-Dixons.
The management team is brimming with experience in the electricals sector. Clare led Dixons for 13 years and was responsible for creating the PC World chain, not to mention expanding the business overseas.
Meanwhile, chief executive Darke, who has been at Comet for 12 years, created its 'grey goods' offer, which includes personal computers, laptops, digital cameras and mobile phones.
The new owner's main aim, having initially focused on cutting costs, is how to build the business. While Dixons' renewed strength lies in its wide-ranging service offer, Comet aims to be the leader on value – its original strength in electricals retailing.
OpCapita managing director Henry Jackson said when he bought the ailing firm that he would use promotions to drive Comet's reputation for value.
Value can be a difficult place to be when faced with a growing number of online players, not to mention giants such as Tesco. Clare is convinced that better use of space in-store and customers' desire to "touch and try" will give it appeal.
Comet will also make better use of its internet site with web exclusives and extended ranges, including focus on categories that do less well in-store, such as cameras.
The failed attempt of US player Best Buy to crack the UK electricals market, which it retreated from earlier this year, proves how tough it is to succeed in the sector.
Comet is not just changing its proposition, but also its staffing structures. Many non-retail aspects of the business have been outsourced as the retailer focuses on core operations. Staff numbers have fallen from 8,500 to 7,000, but 500 part-time staff are being sought.
All eyes will be on the slimmed- down Comet to see if its new owners can position it as a credible rival to Dixons.
Losing spark?
Sales Down 6.8% to £1.48bn
Like-for-likes Down 7.7%
Pre-tax loss £39.6m
Owner OpCapita
Management team Chairman John Clare and chief executive Bob Darke
Figures for full year to April 30, 2011