Our list of the fastest-growing retailers in the UK highlights businesses that have excelled at increasing profits in the past year.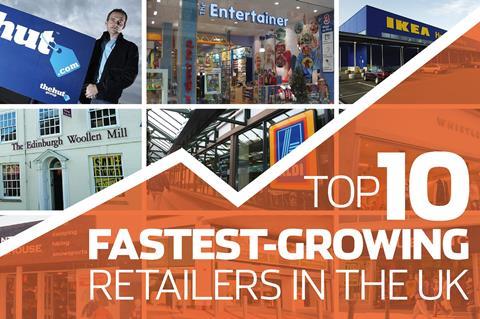 Top 10 fastest-growing retailers, 2016
It's a testament to the retail sector's ability to adapt in today's rapidly changing market that half of the top ten fastest-growing retailers in 2015 are new entries.
50%

The percentage of new entries in the top ten this year.
The top ten covers a diverse range of retailers both in terms of sector and channel, with The Hut Group investing in its international ecommerce offer whilst Oak Furniture Land followed the more traditional route of aggressive domestic store expansion.
"Retail brands noted in this report have been sharpening their business focus, whether that means developing a more completely multichannel offer, investigating new funding options or expanding store networks" said Retail Week's editor-in-chief Chris Brook-Carter.
"Established retailers are running just to stand still as technology, not property, becomes the most valuable asset on the balance sheet."

Dan Coen, AlixPartners director
Another lesson worth learning from these retailers is the potential to monopolise on the many technological advancements in retail technology.
"The growth of new market entrants is outstripping the overall sector growth" says AlixPartners director Dan Coen.
"Something has to give and early reads suggest it is the established retailers who are running just to stand still as technology, not property, becomes the most valuable asset on the balance sheet."
1. The Hut Group
Online retailer The Hut Group tops the list this year. New websites and strong trading from its existing sites helped lift The Hut Group's sales to just under £185 million in 2013, the latest full-year financial period for which it has reported financials. Excluding its discontinued white label activities, this was an increase of 34% on 2012. Over the same period, adjusted EBITDA increased by 48% to £15.0 million as the business benefits from the Group's operating leverage and scalability.
International expansion has also been a major factor behind recent growth as overseas sales accounted for 35% of turnover in 2013, up from 26.5% in 2012. This is reported to have surpassed the 50% mark in 2014, with 13 million orders sent to 190 countries.
Looking ahead, The Hut Group is gearing up for further growth. In early 2015 The Hut Group announced that it would spend £100 million on a new distribution and manufacturing centre in Warrington which will provide enough capacity to deal with sales of up to £1 billion.
2. The Entertainer
Last year's winner, The Entertainer has a network of just under 100 stores and continues to outperform many other toy retailers. The Entertainer has invested heavily in a click-and-collect service in recent years, including the introduction of a 30-minute turnaround service. This has proven to be a considerable success and the retailer reported that click-and-collect accounted for 35% of online sales over Christmas 2014.
The Entertainer is also turning its eye to international expansion. It signed a franchise agreement to open up to 50 stores in the Middle East with the Dubai-based Al Owais Enterprises and opened a first store in Dubai in late 2013. Two more stores have been added since.
Further expansion in the UK is also on the cards and The Entertainer is planning to open 15 new stores in 2015. Further growth in the store network is being supported by the opening of a new distribution centre in Banbury in June 2015. This 225,000 square foot facility marks the retailer's biggest single investment and will help treble its distribution capacity.
3. Blue Inc
Blue Inc's store opening programme has helped drive its sales forward and it reported turnover of just under £100 million in 2013 – the latest year for which financials are available. This is more than double the sales reported three years earlier. Profitability has also improved, with EBITDA rising to £4.5 million.
In May 2014 Blue Inc filed its intention to float. However, these plans were subsequently put on ice due to concerns surrounding the performance of other recently listed retailers. Instead, the retailer raised funds from private investors, with £4 million secured from the Unicorn Venture Capital Trust at the end of 2014 to fund a new online platform.
Speaking of Blue Inc's intention to float, chief executive Steven Cohen said "We are a debt-free business and we are not planning for an IPO before 2016, but we will certainly be considering it then, subject to market conditions."
4. Edinburgh Woollen Mill
The rapid growth of the Edinburgh Woollen Mill Group saw sales surpass £550 million in the year to March 2014 - a doubling of sales in just two years.
Profitability has also strengthened, with pre-tax profits reported to have increased by 26% to £71.3 million in the year 2013-14. This means that the retailer's net margin has now moved into double digits, a high level for a fashion retailer focused on the value end of the market.
Speaking to Retail Week in 2013, Edinburgh Woollen Mill's chief executive Philip Day said that the key to the retailer's success has been getting the product right. "I am very positive about the retail sector. I believe that if you produce an excellent product, you will have a robust business where the customer wants to shop."
Underlining the expansionist outlook of the business, Edinburgh Woollen Mill has stated that it wants to open 100 new stores by 2016, adding to its current network of approximately 1,000 stores across various fascias.
5. Whistles
Whistles climbs to fifth position this year, after being seventh in last year's table. It has continued its ascent as it capitalises on its positioning between mainstream high street fashion chains and luxury brands.
The retailer reported a solid set of results last year, with sales rising by 15% to £56.7 million in the year to January 2014 and operating profit nearly doubling to £2.1 million. Despite recent international expansion, including a high profile move into the US in 2014, the UK still accounts for around 95% of the fashion retailer's turnover.
Developing such a distinct customer following reflects its successful brand positioning in the mind of the UK shopper. By expanding its UK store footprint to the 60 stores planned, the retailer could capitalise on its brand strength by providing city suburbs with easier access to a Whistles store.
6. Oak Furniture Land
While other large retailers have been reassessing the size of their store networks to reflect growing online sales, Oak Furniture Land bucked the trend by embarking on an aggressive store opening programme in 2010. This led to 56 new stores opening over the past four years, adding close to 700,000 square feet of sales floor area.
The retailer reported that its turnover increased by 76.8% to £145.5 million in the year to September 2013 – the latest period for which financials have been provided. Around two-thirds of its sales were generated by the store network over the year to September 2013.
The move into bricks and mortar retailing has impacted the company's profitability. Its operating margin was reduced to 4.9% in 2012-13, down from 8.9% in 2011-12. This deterioration was attributed to a number of long-term investments, including store openings, but should set the retailer up for further growth over the coming years. The retailer's costs have also been reduced by establishing its own delivery service as well as automation at its distribution centre in Swindon.
7. Aldi
Aldi makes its third consecutive appearance in the top ten this year.
Aldi's latest accounts show that sales (including its business in the Republic of Ireland) increased by 35% to £5.2 billion, while its pre-tax profit soared by 65% to £260 million. This gives it a pre-tax margin of just under 5% which is higher than that achieved by many of the leading mainstream grocers.
The discounter's solid financial performance is also reflected in its UK market share. According to figures from Kantar, Aldi's market share stood at 4.9% at the end of 2014, up by a full point compared to the end of 2013.
Aldi's growth is a more impressive achievement when viewed in light of the aggressive price war currently raging in the UK grocery sector. Joint managing director Matthew Barnes is confident that Aldi will emerge as a winner, saying "We've invested an awful lot over the last six months to make sure we maintain our price position and our price gap against the competition is as compelling as it's ever been."
8. Charles Tyrwhitt
Since being founded in 1986, shirt specialist retailer Charles Tyrwhitt grown into a £120 million turnover business trading through 17 stores in the UK as well as through its growing international operation.
The specialist retailer reported a strong performance in the 2012-13 financial year, its latest results at the time of writing. This showed that sales increased by 23% to £120.9 million, while operating profit nearly doubled to £14.4 million.
Charles Tyrwhitt, which was also ranked among the top ten growth retailers in the first edition of the AlixPartners Growth Retailer Report, appears to have maintained its momentum. Reports suggest that sales will reach the £150 million when it publishes its next set of accounts.
9. Ikea
Following a few difficult years as a result of the challenging economic climate, IKEA's performance in the UK has improved considerably. The furniture giant, which celebrated its 25th anniversary in the UK in 2012, reported a solid performance in the year to August 2013, with its UK sales increasing by 11.3% to just over £1.4 billion.
Commenting on these results, UK Country Retail Manager Gillian Drakeford said: "What is really encouraging is that this growth has come from our existing business, and not by relying on a bricks and mortar expansion programme."
Ikea has also continued to increase its share of the home furnishings market, which now stands at 7.1% compared with 6.0% in 2010. The retailer has now set itself the ambitious target of doubling both its sales and market share in the UK by 2020.
Online retailing and e-commerce currently account for around 10% of sales although Ikea is aiming for further growth. It will be trialing a click-and-collect service in 2015 which will serve as a pilot for the global Ikea organisation.
10. Mountain Warehouse
Outdoor specialist Mountain Warehouse has made it into the top 10 for the first time this year.
The retailer's sales increased by 18.1% to £88.6 million in the year to February 2014 driven by the opening of 32 new stores as well as impressive like-for-like sales growth of 13.1%. Trading was boosted by the long, cold spring in 2013, the return of the Glastonbury festival and the very wet winter weather.
The store opening programme was stepped up considerably following Lloyds Development Capital's acquisition of a 23% stake in the company in 2010. This investment has helped to nearly double the UK store network to around 200 stores and the company has also gone on to open ten stores in Poland.
Online sales have also become a growing share of total revenues and were reported to have achieved growth of 130.3% in 2013-14. The online business is currently thought to account for approaching 10% of the group's overall sales.
Find out more about the retailers at the top of the rankings and download the full report here.