Amazon is preparing for its busiest Christmas Day ever, as sales on December 25 have grown more than six-fold over the past five years.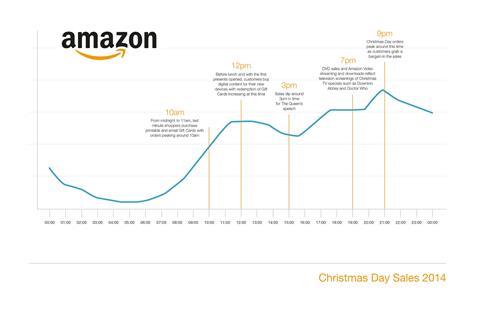 Sales on Amazon peaked last year at 8.52pm on Christmas Day as shoppers relaxed after a day's festivities and snapped up Boxing Day deals.
The etailer expects the trend to continue this year and will be offering Boxing Day reductions at 4pm on Christmas Eve until December 31 to maximise spend.
Amazon European video vice-president Jay Marine said: "A closer look at the hour by hour trends on December 25 gives us a real insight into how the UK spends on Christmas Day – from saving the day with a last-minute gift card to grabbing a bargain in the sale."
In 2014 gift card purchases led sales on Amazon in the early hours of Christmas Day as shoppers bought last-minute gifts, with sales peaking at 10am.
From noon until 3pm shoppers flocked online to redeem their gift cards and buy gifts online. During this time Kindle books and video games were popular purchases alongside items including selfie sticks and coffee capsules.
A lull took place in the afternoon with sales picking up again from 7pm onwards.