Former apprentice Hannah Moakes reveals her ambition to get 'to the very top' after winning the 2016 Rising Star Award.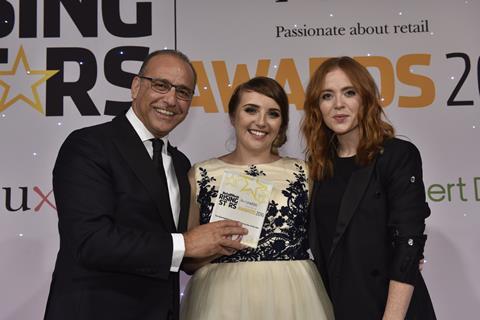 Retail is an industry in which workers can rise from the shopfloor to the boardroom. M&S chief executive Steve Rowe started out as a Saturday boy at the retailer.
It's important to recognise and reward those, like Rowe, who have the potential to rise to the top to make sure they are enthused and driven to reach the highest heights.
Retail Week's Rising Star Awards, held in association with Theo Paphitis Retail Group, is designed to do just that.
"I think we'll be seeing a lot of apprentices emerging in the future as the leading figures in retail"

Theo Paphitis
As Theo Paphitis, chairman of the Theo Paphitis Retail Group, which includes Ryman, Robert Dyas and Boux Avenue, says: "Retail is one of the most passionate and innovative industries and its talent is the key to the success and survival of fantastic UK retail brands.
"From apprentices to ecommerce teams, the Rising Stars Awards are recognising those future leaders and disruptors in retail, which is something very special. These are the people who will ask why we do what we do, and make the difference."
'I'm a people person'
This year's overall winner, Hannah Moakes, who works in Carpetright's Sheffield store, is a new addition to retail's workforce.
She joined Carpetright's apprenticeship scheme just a year ago, but has already shown herself to be something special.
The 23-year-old says she always wanted a career in retail. "I'm a people's person. I love talking so always thought I'd get a customer-focused job," she says.
She chose the apprenticeship routeas an entry point into her career as she wanted to gain training and new skills on the job and was particularly impressed with Carpetright's scheme.
"I got to see all aspects of the company, from head office to the warehouse. I wasn't just dumped into a store and told 'off you go'," she says.
Carpetright HR director Lyn Rutherford says: "Apprenticeships provide school and college-leavers opportunities to gain qualifications while working. For us, there is a clear business imperative to get this right.
"In order to provide the best possible service we need to recruit people who are passionate, hard working, committed and come from a variety of backgrounds. This brings a range of perspectives and experiences into to the business, which helps us to deliver a great service to our customers."
Paphitis says Moakes' victory is a clear indicator of the value of apprenticeships across the industry.
"Apprentices are so important to businesses and the reception Hannah received upon winning spoke volumes to me about how highly regarded she is by her company and peers," he says.
"I think we'll be seeing a lot of apprentices emerging in the future as the leading figures in retail, and I wouldn't be surprised if one of them was Hannah."
A can-do attitude
Moakes has succeeded at Carpetright by embracing the opportunity to new learn new skills and combining it with a can-do attitude.
She says she has learned a lot over the past year, from selling techniques to driving a forklift truck.
Rutherford says: "She has a great attitude towards both colleagues and customers and this shows in her results and in how well liked and respected she is in the team."
Her hard work has paid off. Carpetright offered Moakes a permanent role just six months into her year-long apprenticeship and Rutherford says they are now working with her to prepare her for an assistant manager role.
Moakes is loving her career. "Every day is different to the other," she says. "You meet people from all walks of life and learn how best to deal with them."
Moakes has clearly mastered this. Despite her limited experience, her sales are among the highest within the sizable store that she works and her customer service skills are renowned.
In fact, she was asked to take on a secondment to Carpetright's Cambridge store to help upskill the team there.
An advocate for apprenticeships
Unsurprisingly, Moakes is a big advocate of retail apprenticeship schemes and encourages those who take that path to "really go for it".
"Throw yourself into it. Grab every opportunity that comes your way"

Rising Star of the Year winner Hannah Moakes
"The most important thing is to throw yourself into it," she says. "Be yourself, be natural and grab every opportunity that comes your way."
What's next for Moakes? Well, Carpetright will be pleased to know that the award winner is committed to the company, but perhaps chief executive Wilf Walsh should watch his back.
"It's a great company to work for and I want to stay within Carpetright and get to the very top."
Moakes star is clearly on the rise and if she continues to apply the same hard work and enthusiasm that helped her win the Rising Star award, it will help set her career into orbit.