Burberry like-for-likes increased 3% and underlying retail sales advanced 4% (up 22% as reported FX)
Benefited from the "continued exceptional performance" in the UK where like-for-likes surged 40%
Digital outperformed during the quarter with growth in all regions, particularly via mobile and in China
Burberry group like-for-like sales increased 3% in the golden quarter, driven by a 40% like-for-like surge in the UK.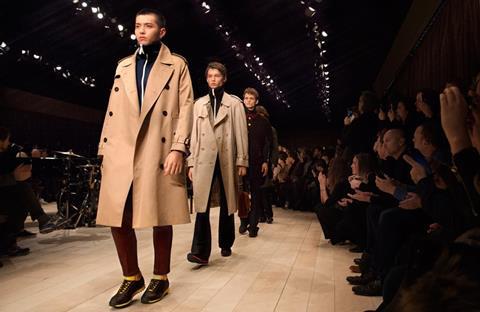 The retailer said this "continued exceptional performance" in the UK was from both travelling luxury customers and domestic shoppers.
Across the group, underlying retail sales advanced 4%, or 22% as reported FX, in the quarter to December 31.
The luxury retailer said that growth was led by newness across all categories, with particular strength in bags.
Burberry also improved conversion during the period and experienced a double-digit uplift in spend from returning customers.
Digital was the star performer over Christmas, and achieved growth in all regions.
Burberry highlighted the success of its Christmas short film, an all-star affair starring Sienna Miller, Lily James, Domhnall Gleeson and Dominic West. The retailer said it had 22 million views of the film.
Burberry chief creative and chief executive officer Christopher Bailey said: "With a record number of views of our festive film and strong demand for new products in our collections, this third-quarter improvement reflects early progress from our plans to drive Burberry's performance for the long term.
"We continue to take action to position the business for growth over time and our plans to enhance efficiency are on track."
The retailer said that its plan to enhance efficiency was on track and it is on course to deliver £20m of cost savings in its 2017 financial year.
International trends
Soaring UK sales and improvement in France helped the EMEIA region achieve double-digit percentage growth.
Burberry said that its Chinese business had accelerated and had notched up high single-digit like-for-like sales over the period. This helped the Asia Pacific region return to growth.
Burberry sales in the Americas declined by a low single-digit percentage, which the retailer put down to uneven demand in the US.