Organisations that promote employee ownership of diversity and inclusion (D&I) goals will have the greatest success in tackling inequality in the long term, according to Be Inspired's expert panel.
Just like any other area of your business, a robust strategy is required to ensure your organisation is truly inclusive and diverse. To do this, retailers must make sure D&I is woven into the fabric of an organisation's DNA, which begins with an employee-centric approach.
This was the consensus at Be Inspired's recent expert panel discussion, which included senior director of people for Europe at eBay Zeenath Khan, chief operations officer at Wickes Fraser Longden and EMEA HCM & ED&I specialist at Workday Daniela Porr. You can watch the discussion below.
Khan explained the importance of creating channels of connection and engagement across different hierarchies and structures at eBay: "I don't think we should underestimate the impact of community inclusion groups and networks. In my opinion, they're one of the most important culture drivers."
However, Khan also stressed the role of top-down leadership in driving diversity and the need for leaders to demonstrate authentic buy-in beyond recognising the business case for D&I and the benefits for ROI.
Longden agreed, describing Wickes' own D&I strategy as "colleague-fed but leader-led". His advice to senior leaders was: "Listen hard, accept what you're hearing is true… and then do a great job of amplifying it across the business to move things forward."
Drawing on Workday's extensive experience of working with top retailers at different stages of their D&I journeys, Porr explained that a good strategy strives to make diversity, equity and inclusion everybody's job: "Yes, there is some element of top-down, but it really needs to go hand in hand with what the staff feel."
"[D&I actions] need to be embedded in everything that you do, every talent management process, every piece of learning, every promotion decision," she added.
Want to find out more?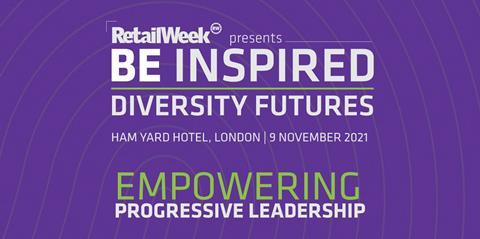 Workday will be leading an in-depth roundtable discussion on the key tenets of a truly effective strategy for D&I at the next Retail Week Be Inspired Diversity Futures conference on November 9, 2021.
Taking place in-person at the Ham Yard Hotel in Soho, Diversity Futures is for c-suite and senior leaders (directors/heads of) with a passion for driving diversity and inclusion across their organisations –whatever their job role.
With focused sessions covering intersectionality, neurodivergence, supporting trans colleagues, helping women through menopause, disability accessibility and more, this is an event not to be missed. Purchase your ticket here today.

Workday is a leading provider of enterprise cloud applications for finance, HR and planning. Founded in 2005, Workday delivers financial management, human capital management and analytics applications designed for the world's largest companies, educational institutions and government agencies. Organisations ranging from medium-sized businesses to Fortune 50 enterprises have selected Workday.