The fashion group is driving success by focusing on multichannel and overseas growth.
After emerging from the ashes of Mosaic, fashion group Aurora Fashions seems to have become a trailblazer in UK retail.
Mosaic was hit by the collapse of Icelandic investment vehicle Baugur and successor company Aurora now operates Oasis, Warehouse and Coast. It has been quick to pursue multichannel and international growth in the face of a flat domestic economy and is paving the way for UK retailers.
Aurora was the first to introduce super-quick fulfilment of online orders, launching 90-minute deliveries. The Shutl-provided service launched within the M25 in late 2010, and is being extended across the UK's main conurbations.
Multichannel is now an integral part of Aurora's ethos. The retailer has integrated its stock system to create a single stock pool across all channels. Under the banner 'Anywhere Everywhere', the group aims to fulfil orders from both its distribution centre and shops.
Aurora has also ramped up its multichannel offer in its stores. IPads and mobile Chip and PIN terminals, which allow customers to pay for products from anywhere in-store, have been trialled in a new store format which is now being rolled out.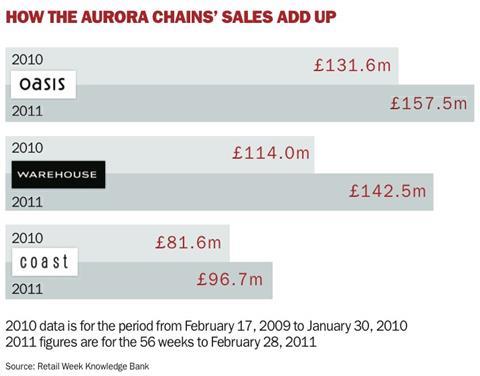 Aurora's success in multichannel could lead to a dramatic reshaping of its physical retail network. President Stewart Binnie told The Cloud Retail Week Conference last month that the retailer could dispense with more than half its stores as the web continues to reshape its business - up to 70% of the company's transactions now involve the internet in some way.
The group's three fascias currently operate from 200 standalone UK stores. Aurora is in fitter financial shape since Mosaic was placed into pre-pack administration after stakeholder Baugur collapsed in 2009, raising questions over the future of its retail investments, including House of Fraser and Hamleys.
Aurora, then named Mosaic, was bought out of administration by bank Kaupthing and Mosaic's former management team, which owns 9%. Other parts of the business such as Principles and Shoe Studio, which operates fascias including Pied a Terre and Nine West were not taken on.
The group faced unhappy suppliers, a lack of credit insurance and a background of negative publicity when it was sold. Its management team, including executive chairman Derek Lovelock and chief executive Mike Shearwood, had to negotiate a new hedging facility with Barclays as well as reassuring suppliers.
Kaupthing remains the group's major shareholder but a sale is expected in the medium term, although no indication has been given about when.
Aurora's profitability has improved in recent times. It clocked up pre-tax profit of £75.3m in the 56 weeks to February 28, 2011, against a £44.7m loss for the period from February 17, 2009, to January 30, 2010.
Along with multichannel, the group has identified international as a major source of growth. It currently operates 550 stores outside the UK, with Oasis accounting for 250 stores. However, Coast and Warehouse are quickly gaining ground. Coast has added over 60 international locations to its tally over the past two years, while Warehouse has opened a further 40.
The retailer has focused its expansion on Europe, Russia, the Middle East and Far East and has started to launch local language websites overseas to build its multichannel strength internationally.
The three brands will hope to emulate the success of Karen Millen overseas. The premium retailer, which was spun off from Aurora last year, makes 60% of its revenue outside of the UK, and was put on a separate financial footing to Aurora to help fund its global expansion.
Aurora is also using overseas as a test bed for online. It launched a multi-branded website, with all three fascias hosted on the same site, last year but is seeking to add external brands in a bid to emulate the success of rival etailer Asos. If successful the group will bring the model to the UK.
With multichannel and overseas expansion providing opportunities for growth, Aurora's future looks bright.
Who's who
Executive chairman Derek Lovelock
Chief executive Mike Shearwood
Managing director, Oasis Liz Evans
Managing director, Warehouse Meg Lustman
Managing director, Coast Margaret McDonald
Group omni-channel director Ish Patel
Chief finance officer Richard Glanville