Boohoo.com has revealed it will conduct a pilot to sell 100 items of its clothing on Asos from May this year.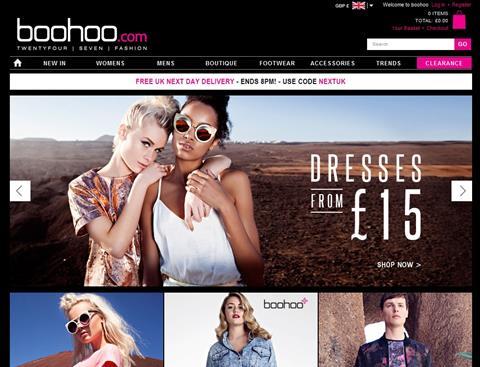 The fashion etailer, which sells own-brand clothing on its site, aims to drive brand awareness in both the UK and international markets through its presence on Asos.
"Boohoo is delighted to announce it will be presenting its brand on the Asos platform, introducing an additional and well-established channel to market," said a Boohoo spokesperson.
"Boohoo has over 12,000 styles online at any one time, but the offering available through Asos will be made up of a capsule collection of around 100 items.
"This announcement follows on from recent news of the successful completion of the £10m extension to the distribution facility based in Burnley, creating capacity for the next three years and securing infrastructure for the future."
It is the first time Boohoo has sold clothes outside its own website.
Competitors
Speaking today following the unveiling of Asos's financial results, the etailer's chief executive Nick Robertson said he did not see Boohoo as a competitor.
"Boohoo is a single brand, so we wouldn't deem that as a direct competitor because we have 750 single brands on our website as well as our own brands," he said.
"Boohoo, because of the price points they sell at, appeal to almost a younger customer than Asos," Robertson added. "We're 20s, they're almost teenager and very early 20s."
Talking about other competitors, Robertson also said he did not see Amazon as a fashion competitor, but a "platform for potentially selling lots of clothes".
"I don't want to sound arrogant or threatened by them a little bit, but I don't see Topshop and Zara waking up in the morning and going 'what about Amazon?'"