Asda has withdrawn a 'mental patient' fancy dress costume from sale after the product was deemed distasteful by the public.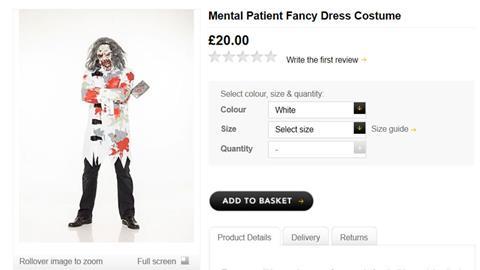 The costume is designed to look like a straitjacket covered in blood and went on sale through clothing arm George at Asda for £20, Sky News reported.
Asda quickly withdrew the product and pledged to make a "sizeable" donation to the Mind charity for mental illness.
Twitter users attacked Asda over the sale of the product. Former England footballer Stan Collymore, who has had problems with depression, wrote: "Do you actually realise how many people are hanging themselves because of being frightened of the stigma? Wording is CLEAR. MENTAL PATIENT."
Former Labour spin doctor Alastair Campbell, MP Mike Thornton and charity Rethink Mental Illness were among the critics of the item.
Asda said: "We're deeply sorry one of our fancy dress costumes has upset people. This was an unacceptable error - the product was withdrawn immediately.
"We'd like to offer our sincere apologies for the offence it's caused and will be making a sizeable donation to @MindCharity."
Following the Asda incident, complaints were made to rival Tesco over a costume called 'Psycho Ward' which featured a model in an orange jumpsuit with the word 'committed' on it.
Tesco has removed the outfit from sale and apologised.