Bridging the gap between bricks and clicks using customer data insights and investment in technologies such as digital loyalty schemes is driving retailer success in shopping centres, a new Retail Week report has revealed.
Produced in association with intu, 10 of the Brands Shaping the Future of Shopping Centres identifies those retailers leading the way with innovative formats and successful strategies.
Brands including Nespresso, Seasalt and The Entertainer are among the list, and all are significantly growing their presence in UK malls.
The diverse list includes retailers with a strong digital presence, those that only operate stores, and some that are rewriting the rules of retail with their unique product- and experience-led approach.
The report also features leading food and beverage brands that view shopping centres as a key plank of their expansion plans; and others that are using the shopping centre environment to trial exciting, original concepts.
Below is a snapshot of three key retailer shopping centre strategies identified in this report.
1. Knowing the customer
Delving further into the strategies of the 10 brands, one obvious similarity is their drive to discover what customers want, as well as delivering the right combination of retail basics and fresh innovation.
"We have a great collection of toys, sourced internationally, and our merchandising standards are key," says Gary Grant, executive chair and co-founder of The Entertainer.
"One obvious similarity is their drive to discover what customers want, as well as delivering the right combination of retail basics and fresh innovation"
"We are not trying to run a jumble or car boot sale. We have stores that have a great feel and ambience to them in the way they are laid out and the activities in them."
Grant notes that product demonstrations are a key part of The Entertainer's strategy as the business seeks to be more than a "functional retailer" and create a "fun atmosphere in our stores".
Nespresso is another brand that knows its customers inside out. The brand's boutique concept surrounds customers in an "immersive coffee experience", according to head of sustainability Julie Gallacher, helping consumers "discover and explore our range of tastes and flavours".
Gallacher says the company's community of "enthusiastic fans" who sign up to its membership model tend to be the best brand advocates.
2. Combining bricks and clicks
Most of the brands in focus also recognise that the interplay between online and bricks-and-mortar retail contributes to the overall customer experience.
Click and collect is arguably the most tangible way in which stores and ecommerce work in harmony.
"Click and collect is fast becoming a hygiene factor for the best-performing retailers"
In fact, click and collect is fast becoming a hygiene factor for the best-performing retailers. And, in turn, shopping centre landlords are adding collection and return points to their sites to drive footfall and give shoppers other reasons to visit their centres.
Joules, another retailer in the top 10, is an example of a business that understands the symbiotic relationship between stores and online, whereby the different sales channels support each other's growth.
Chief finance officer Marc Dench says its store-opening strategy is based largely on shops' ability to increase online traffic and click-and-collect customers – and vice versa.
3. Technology and innovation
Unsurprisingly, the retailers helping to shape the future of shopping centres are all embracing technology in its various forms.
Top 10 retailer Hotel Chocolat was launched as an ecommerce business and has grown into a multichannel operator with digital at its core. Its VIPMe rewards card is available to all customers and allows users to collect and track points both online and in store.
Costa, one of the F&B names on the list, has recently rolled out a new app that enables mobile payment and hosts a loyalty programme, all in one place.
Grant says that, although The Entertainer typically would not do anything in its intu Lakeside store that it wouldn't do on the high street, the company has an opportunity to spend more on refits thanks to the larger revenues generated by high footfall shopping centre locations.
The Entertainer's Westfield London refit in 2018 was the most expensive it has ever embarked upon. The store, which reopened in March 2018, features a Magic Mirror photo booth, a Launch Pad area with iPads for children to play on, interactive flooring and digital screens.
However, these are just some of the strategies retailers are deploying to ensure shopping centre success.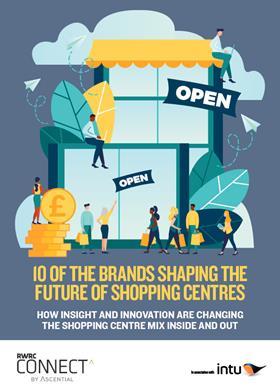 The brands shaping the future of shopping centres
The strategies underpinning their successful shopping centre formats
How shopping centre owners are taking the leisure offer to the next level
What the future of the shopping centre will look like

Intu is a leading UK owner, manager and developer of prime regional shopping centres. It is passionate about creating uniquely compelling experiences, in centre and online, that attract customers, delivering enhanced footfall, dwell time and loyalty.