Leisure and retail in King's Cross continues to evolve. John Ryan takes a look at what's on offer in anticipation of Coal Drops Yard opening in October.
Socially, London's King's Cross is a good place to be these days. With a plush cinema, restaurants, bars and a smattering of fashionable shops, the area has morphed inside a decade into a new central London destination.
The new stores on King's Boulevard ­­– Carhartt, & other stories, Jigsaw and a Nike outpost that is somewhere between an outlet store and a mall emporium – already make this an alternative to the West End for fashion and sports shoppers, and the uber-luxe 18Montrose on Stable Street adds to this.
And later this year, the Coal Drops Yard development will welcome its first shoppers, drinkers and diners in late-October.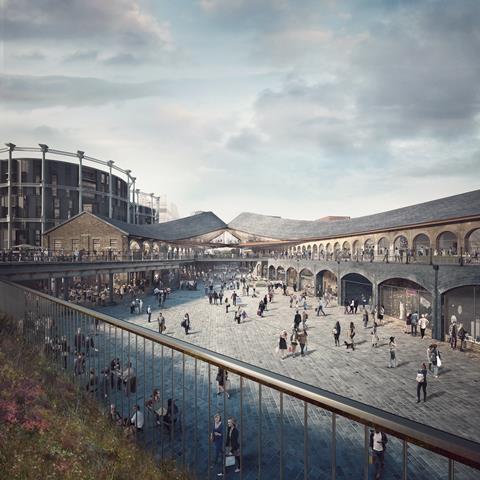 Coal Drops Yard
Coal Drops Yard has been constructed around a Victorian structure dating from 1850 and, as the name suggests, is where fuel for trains coming in and out of King's Cross station was deposited.
Now it has been restored and a curving slate roof has been added that unites the two buildings, combining a piece of industrial heritage with contemporary design using steel, glass and wood.
More to the point, this will be an addition to an existing retail landscape with emphasis on a traditional approach to attracting shoppers. The new 100,000 sq ft space will certainly be on nodding terms with the digital side of retail (the whole scheme will be Wi-Fi-enabled), but it is the names and their merchandising that will do most of the work.
International brands such as Paul Smith will be taking space alongside local retailers such as Lost Property of London (leather bags) and eyewear retailer Cubitts, and although some of the names of the biggest retailers in the scheme remain under wraps, the aspirational tenant mix will have a strong emphasis on fashion.
With places to eat and drink overlooking the adjacent canal, developer Argent hopes Coal Drops Yard will prove sufficient to be the final must-visit piece in the King's Cross jigsaw.
Just as importantly, alongside King's Boulevard and the shops on Stable Street, the opening of this scheme will provide shoppers with an alternative to the Regent Street/Oxford Street offer and may shift central London's centre of shopper gravity a little north.
Nike, King's Boulevard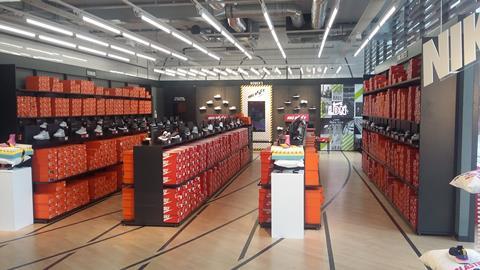 The Nike store on the strip that leads up to Granary Square is a mild curiosity in as much as it looks a little like an outlet store ­ – piled boxes topped with single shoes – but also boasting the technology that has done a lot to set the brand's stores apart.
Currently the branch is promoting a new product ­– trainers that incorporate a new type of durable and energy-returning cushioning material – with the use of doggedly low-tech banners and graphics stating 'REACT', but the store also boasted a bank of inbuilt perimeter screens to reinforce the REACT message.
The mid-shop, meanwhile, was filled with boxes of stock and this could easily have been Bicester Village or the Nike Factory Store in Swindon Designer Village.
What matters perhaps is the athleisure feel of this interior, which is in keeping with much of what is set to follow in Coal Drops Yard later this year, according to Argent project director Craig White.
The Nike store with its mix of fashion, sport and tech is also aimed fairly and squarely at the youthful demographic that currently tends to make its way to this part of town.
18Montrose, Stable Street
Shoppers with cash to splash and a desire to dress in predominantly sports fashion might find themselves in 18Montrose, the first high-style store to open in the area and with an interior that takes a highly futuristic approach to the business of store design.
This tech is not used to make shopping easier or faster, but to create an atmospheric 'experience'.
The store is 'zoned' using freestanding perimeter walls, the lower portion to display back-lit merchandise, while above mood videos are screened.
The floor is white and the ceiling black and the mid-floor space is filled with a long line of mannequins.
In terms of making a statement and setting expectations, 18Montrose's message is that this is not a store for the faint of wallet – a promise that is amply fulfilled within.