From parcel towers and Doddle partnerships to sharing space at customer-service desks, stores editor John Ryan looks at how the big four handle click-and-collect.
Last week's look at click-and-collect in fashion and department stores revealed that the business of picking up purchases made online can be muddied.
There are frequent instances of stores putting customer returns, exchanges and complaints alongside click-and-collect counters.
This can mean long queues, as well as a tendency to put click-and-collect desks in remote parts of the store, where they do not impinge on more profitable space closer to the main door and on the ground floor.
This week, we look at how the supermarket approach to click-and-collect differs.
For a start, most supermarkets locate their click-and-collect desks near the entrance since all space in a grocer tends to be given equal weight as shoppers tend to trawl the aisles.
Asda, Trafford Park, Manchester
The click-and-collect point in the Trafford Park store is one of a network in place across the Asda portfolio for some time.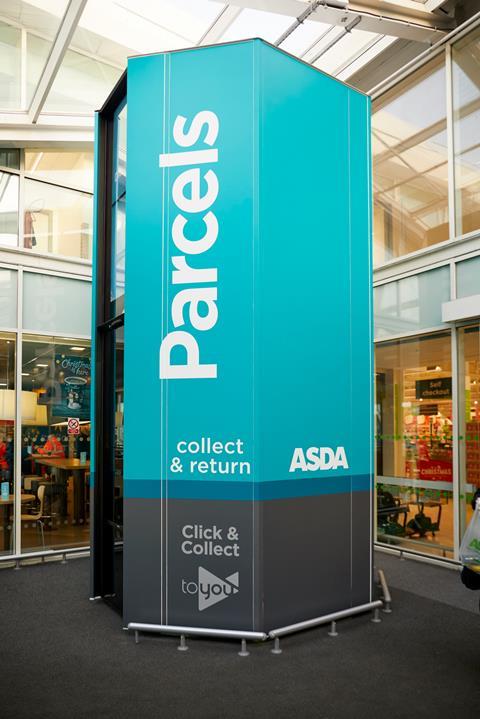 This one, like most, is located towards the front of the shop and allows shoppers to collect their previously ordered purchases in the usual way.
It is in the atrium preceding entry to the store that things really differ, however. Here Asda has installed a click-and-collect tower for those choosing items from its George clothing range.
Already in use in the US by Asda's parent company Walmart, the 16ft-high parcel 'vending machine' is an automated device that allows shoppers to pick up their George purchases in less than a minute once a supplied barcode has been scanned.
Interestingly, Asda shoppers can also use the machine to pick up items ordered from third-party vendors, including Missguided, Asos and Decathlon.
The tower also permits returns to be made and, as an exercise in taking an aspect of retail that should be wide open to automation, this looks a positive development for time-pressed shoppers.
Morrisons, Camden, London
A sign on the outside of this large Morrisons branch enjoins shoppers to 'Shop till you drop. Click online, collect here'.
Morrisons' normal colours are yellow and green, but this sign is deep purple with a white font.
The reason for this is simple – the supermarket has opted to outsource its click-and-collect operation to Doddle and, like Asda, allow third parties in on the act.
The Doddle at Morrisons desk informs the curious that Amazon, Asos, Ebay, New Look and Nespresso are among the partners whose merchandise can be thus collected, and the desk is located just in front of the cash desks.
A mild problem on the day of visiting was that the desk was unmanned, but there were also currently no takers for the service.
If parcels needed collecting, there are also a series of cupboards, Doddle-branded, that form part of the customer-service area, although the link between these and the desk is not immediately apparent.
As in other branches of Morrisons (and a number of Co-op stores), there is also a bank of Amazon lockers on the outside of the store.
Sainsbury's, Camden and Islington, London
Clicking and collecting at Sainsbury's in Islington is rather more straightforward than at the Camden store, owing to the fact that the customer-service area, offering 'Advice & Information', also happens to be where online purchases are collected.
The space is clear and uncluttered, and its location directly inside the entrance means shoppers wishing to use the service do not have to waste time finding their way to the appropriate part of the store.
The contrast with Camden is stark. Here there is a lobby where tobacco, newspapers and lottery tickets are sold. For those who have clicked, collecting involves ignoring this and heading into the store itself where there is a customer-service desk.
However, no hint is made of the fact that this is also a click-and-collect station and there is nothing in the way of signage.
Waitrose, Holloway Road, London
Like the Sainsbury's in Islington, the customer-service desk in this modestly sized Waitrose outpost is also the click-and-collect point.
This being part of the John Lewis Partnership, the signage clearly indicates that this is a collection desk for items purchased from both Waitrose and the department store group.
The 'Welcome' advertised above the counter consists of 'Our Treat' (free coffee for card-holders) and a request to 'Ask Us About' food made to order, flower and gift-wrapping, and glass and fish-kettle loan. Tulips on the desk were a nice touch, as well.
If nothing else, the tone of voice in this store and its click-and-collect counter is distinctly civilised, but then this is Waitrose, so perhaps this should be taken as a given.
To see how fashion and department stores handle click-and-collect, click here.