Next year food sales will increase across the globe, ethical considerations will rise and shoppers will remain fixated on price, finds a major study of 10,000 consumers.
The Global Consumer 2019 report, produced by Retail Week in partnership with DWF, surveyed 10,000 consumers in markets including Australia, China, France, Germany, Italy, Kenya, the Republic of Ireland, the UAE, the UK and the USA to chart the macro trends shaping the global consumer.
Against a subdued global picture, where confidence across eight measures is down in six of those markets, key areas of spend growth were identified.
Food sales will grow as general merchandise suffers
Across nearly every market, food is the area where consumers are planning to increase spend, with the greatest rises in Kenya (75%), China (54%), the UAE (53%), the US (43%) and the ROI (40%).
However, sales of general merchandise – such as greeting cards and stationery – will suffer in some markets. In France 55% will reduce spending here, along with 48% in Kenya and 42% in Italy.
Non-grocery and travel boost in developing markets
Non-grocery retail will experience substantial growth, with 60% in Kenya expecting to spend more on the category in 2019, along with 45% in China and 42% in the UAE.
Travel will also perform well, with 56% in China planning to spend more in this area, 46% in Kenya and 43% in the UAE.
Ethical considerations will continue to rise
With so much international focus on the state of the environment, it is unsurprising large numbers of consumers in each market are more concerned about the impact we are having on the planet – and that this is feeding into their shopping habits.
In China, the world's largest consumer market, 76% are more concerned about the environment than they were last year and 82% have started shopping with retailers with more ethical and sustainable practices as a result.
Price will remain a key battleground
Price appears to be a universal language, with deals and promotions resonating across markets in both grocery and non-grocery. In the UK, for example, a low price is the most important consideration among 64% and 61% of consumers in non-grocery and grocery stores respectively.
Similarly, in Germany, China and Australia consumers say a low price motivates them to buy.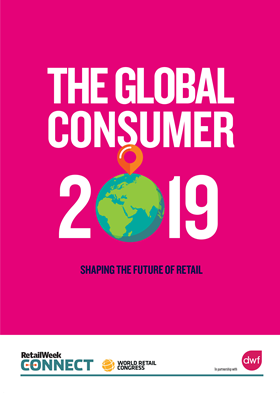 To find out more about these trends, along with the full findings from our study of 10,000 global consumers, register to read this report for free today.
The Global Consumer 2019 will also tell you:
How confident consumers feel across eight measures, including personal finances and their ability to make major purchases
What their disposable income, debt and likelihood to spend is
Which channels retailers need to direct investment into across territories
DWF is a leading global legal business with an expert retail sector team.