US airline JetBlue was founded in 2000 with the mission to "bring humanity back to air travel". This aim – and how the firm fulfilled it – carries relevant lessons for retail.
Defy expectations
JetBlue started out life as a domestic air carrier in the US with the aim to serve segments of the market that were "overpriced, underserved, or both".
The airline has made egalitarian service its watchword and, in doing so, defied travellers' expectations of what economy travel looks like.
"There are lessons here for retailers looking to defy the status quo with their product offer or shopping experience"
The value-led airline offers a variety of perks, such as more legroom than any other US economy airline, TVs in every seat and free drinks and snacks that customers can collect themselves from fridges located in the cabin, rather than food trolleys that block the aisle.
More recently, the firm has launched free in-flight Wi-Fi – called Flyfi – which chief executive Robin Hayes says is "a big gamechanger".
"If you think about how today's consumers are using media, they're watching the TV, they're surfing the internet, maybe they have a third device going as well. And we're allowing that experience to happen on board an airplane," he told Free Enterprise in 2016.
There are lessons here for retailers looking to defy the status quo with their product offer or shopping experience in order to win loyalty from their shoppers, online and off.
Reduce queues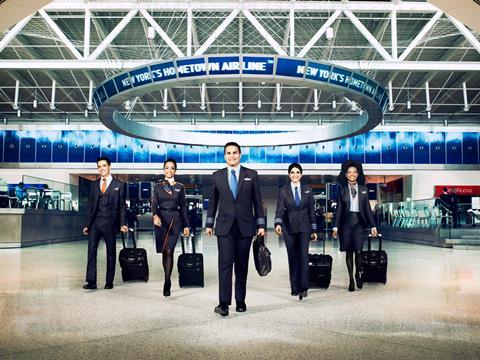 The vast majority of travellers want to get to their holiday destination as fast as possible. JetBlue has prioritised speed in every part of the process.
When asked by The Wall Street Journal the one thing that he would change about air travel, Hayes said: "Speed it up."
One of the big issues that came up with the airline carrier's customers was one that retailers also face – the desire to queue less.
As a result, JetBlue has launched a series of initiatives including mobile check-in, kiosks in the airport to speed up checking in and has even worked with the TSA (Transportations Security Administration) to speed up pre- and post-flight security processes.
By cutting down the amount of time customers have to stand in line before they get on the plane, JetBlue has ensured that travellers are more inclined to fly with it again.
Don't be afraid to innovate
Despite gaining traction among US travellers as a low-cost carrier, JetBlue hasn't been afraid to expand beyond the values that made it famous.
It has launched a number of international routes, now flying to Mexico and various Caribbean islands, and in 2016 risked alienating its core customers by adding a business-class option for longer-haul flights.
"JetBlue's desire to innovate shows no signs of abating"
The JetBlue Mint product offers fliers a menu developed by top New York chef Brad Farmerie and desserts concocted by Brooklyn's Blue Marble Ice Cream and Mah-Ze-Dahr Bakery, changing expectations of airplane food. It also hands out toiletries provided by cosmetics business Birchbox.
JetBlue's desire to innovate shows no signs of abating.
The company launched JetBlue Technology Ventures in 2016, an arm that aims to "incubate, invest in and partner with early stage start-ups at the intersection of technology and travel".
It is already working with the likes of electric aircraft developer Zunum Aero, ticketing platform Betterez, and Flyr, which predicts air fares for price-conscious travellers, in its effort to further enhance the customer experience.
That relentless focus has seen it named the best low-cost carrier in the US for customer satisfaction by global market research company JD Power for 12 years running.
The likes of Tesco, John Lewis, Next and shopping centre landlord Westfield – all of which have their own tech and innovation labs – will hope a similar emphasis can breed the same levels of shopper satisfaction and loyalty that JetBlue has enjoyed.
Take on the big boys
JetBlue has muscled its way into a sector dominated by a clutch of heavyweight companies, and has not pulled any punches in its fight to wrestle market share from them.
Figures from Statista show that JetBlue amassed revenues of $4.5bn in 2011 – a figure that had surged 55% to $7bn by 2017.
Its continued rapid growth meant that last year only five US airlines could boast a larger market share than JetBlue.
Aside from the big four players, American Airlines, Southwest, Delta and United – which accounted for 81% of the US airline market between them – Alaska Airlines was the only other carrier to hold a bigger slice of the pie than JetBlue, accounting for 4.6%, compared to JetBlue's 4%.
Despite being a relative newcomer to the aviation world at just 18 years old, JetBlue's larger rivals have been forced to sit up and take notice.
The business now has 20,000 crew members, operates 1,000 flights daily and has 38 million annual customers. It is now the number-one airline in the Caribbean and is expanding rapidly into Latin America.
It is easy to draw comparisons with Aldi and Lidl, which have made a similar impact in gobbling up share of the UK grocery market.
Their success, and that of JetBlue, should serve as examples to other up-and-coming retailers, such as Missguided and Gymshark, as to what can be achieved against sector Goliaths.
Create a company culture
JetBlue has built its business around five core values that have defined its structure, the way it does business and the people it employs – safety, caring, integrity, passion and fun.
The business refers to all of its staff as crew members, while managers, directors and executives are called crew leaders.
"It maintains a 'servant leadership' attitude, which means the priority of JetBlue executives is to serve their crew"
It maintains a "servant leadership" attitude, which means the priority of JetBlue executives is to serve their crew.
That sense of team spirit and togetherness is further built by the fact that executives' offices are the same size as those of less senior directors and senior managers – and senior leaders muck in by cleaning planes after flights, tagging bags and helping customers carry their luggage at the airport.
But a wider sense of community and giving back is also central to JetBlue's beliefs.
The company operates the JetBlue Crewmember Crisis Fund, a not-for-profit organisation that provides financial help to staff who need it. For instance, it stepped in to help employees and their families who were hit by Hurricane Sandy.
It's not hard to see why, in 2017, JetBlue was named the third-best company to work for in the US.
The likes of Schuh, John Lewis and Screwfix have been praised for similar reasons in the past, developing a culture that not only creates a happy working environment but allows it to attract and maintain top talent.