Growing its international footprint is top of the retailer's agenda under new owner Jones Group.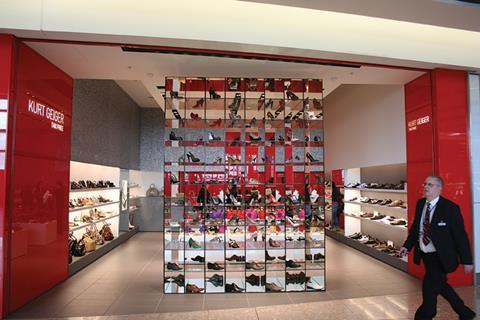 International expansion has become footwear retailer Kurt Geiger's main focus under new owner Jones Group as the costs of operating in the UK continue to limit its opportunities here.
The retailer, which has been trading since 1963, already has a growing international presence with 40 outlets, mainly concessions, in Ireland, Italy and Germany plus franchise stores in the Middle East. It opened two US stores this year and wants to have 10 to 15 shops in the country by 2015. It also operates a US website.
Kurt Geiger is eyeing the Far East and has plans to open in Hong Kong, Macau, Shanghai and Beijing next year.
US retailer and wholesaler Jones Group, which owns brands including Nine West, for which Kurt Geiger has held the licensing and distribution rights in the UK since 2009, snapped up the retailer for £215m in June last year.
It is Jones' intention to use Kurt Geiger as a hub for further expansion in Europe.
But as far as the UK is concerned, Kurt Geiger boss Neil Clifford said this year he is taking an "incredibly cautious" view of expansion in light of high business rates and rents, which he said are "killing UK retail".
The retailer, which has 56 UK stores and 147 concessions in department stores including Harrods, Selfridges and Debenhams, said it will not open any further shops here and is in fact considering closing five stores outside London over the next few years.
Kurt Geiger stores mainly sell own-brand ranges – Kurt Geiger, the younger KG diffusion range, Carvela and Miss KG, a more affordable collection that was originally introduced for Debenhams concessions in 2009 but has since moved into Kurt Geiger stores.
The retailer launched discount site Shoeaholics.com last year to sell out-of-season and slow-moving lines.
At the other end of the scale it added a premium accessories range, Everything but the Dress, last year. Although it also sells leading designers such as Nicole Farhi, Hugo Boss and Converse, own brand accounts for more than half of total sales.
Clifford has led the retailer since 2003 and has been at the helm through four different owners. He led a £46m management buyout of the footwear chain in 2005, backed by Barclays Private Equity, from former owners the Al Fayed brothers.
Graphite Capital took over Barclays' 72% stake in 2008 before selling the business to Jones Group last year.
Under Clifford's direction the retailer has repositioned to occupy a bridging position between high street and designer product.
Despite the tougher economic climate of recent years, sales growth at Kurt Geiger has remained strong, driven by expansion and like-for-like sales increases.
Sales jumped 10.2% to £183m in the 11 months to December 2011. That followed a 22.4% climb in the year to January 2011.
The retailer has benefited from its premium positioning as competition intensified in the mainstream market, where mid to lower end footwear retailers have suffered at the hands of increasingly dominant fashion players such as New Look and Primark.
The trend at the moment for 'statement shoes' has also boosted Kurt Geiger's sales, with a growing number of women willing to invest in premium, distinctive footwear.
That trend is likely to continue into 2013 and should encourage further growth, despite the fact that trading conditions are expected to remain tough.
With its high-end position complemented by its value-conscious offer, it seems Kurt Geiger has all bases covered to ensure it stays one step ahead of the competition.
Step ahead
Owner Jones Group
Chief executive Neil Clifford
Sales Up10.2% to £183m for the 11 months to December 2011
Pre-tax profit £13.3m
UK outlets 56 stores and 147 concessions