Debenhams has blamed a drop in profits on unseasonable weather, but what can retailers do to battle against the elements as they have this winter?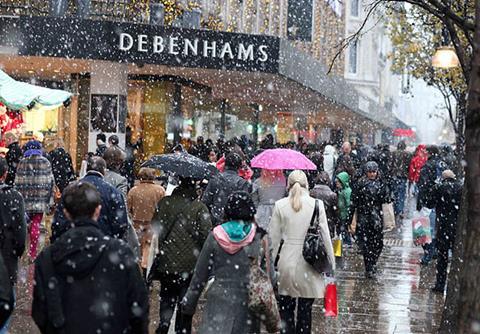 Former Marks & Spencer boss Sir Stuart Rose once famously said that "weather is for wimps". If that's true, there may well be yellow-bellied updates on the horizon as the cold snap, which lasted well into spring, takes its toll across the high street.
Debenhams, which faced mockery after it blamed the weather when it was forced to issue a profit warning last month, was expected to reveal a drop in first-half profits as Retail Week went to press because of the prolonged wintry conditions.
But despite the cynicism that originally greeted Debenhams' warning, it was soon joined by retailers including Next, H&M and even the mighty John Lewis, which have all reported that the recent cold weather has had some impact on sales.
Footfall across the UK plunged 5.2% in March as the freezing conditions put shoppers off heading to stores.
However, the unpredictable British weather is starting to become a norm rather than an anomaly and retailers are looking for new ways to minimise the impact.
Some retailers, such as Halfords, which reported flat like-for-likes in its fourth quarter to March 29, proved that having balanced ranges can help offset the volatility of extreme weather.
The retailer experienced a surge in sales of car maintenance products during the cold weather, as batteries, bulbs and windscreen wipers flew off shelves.
That made up for an 8.8% fall in bike sales - the sub-zero temperatures did little to encourage even the keenest of cyclists to slip on the Lycra.
Halfords chief executive Matt Davies said: "Car maintenance performed really well partly as a result of the freezing conditions. Having said that, cycles have been impacted and [the weather] has delayed the start to the cycle season."
However, for the season-driven fashion sector, product is geared around predicted weather cycles.
Fashion was one of the worst-hit sectors during the icy spring. The BDO High Street Sales Tracker reported a 3.4% like-for-like sales dip in the category last month.
The BRC-KPMG Retail Sales Monitor also flagged a cold-weather impact on fashion. KPMG head of retail David McCorquodale says: "Clothing and footwear retailers had a dismal month as the cold weather froze sales, leaving summer skirts and sandals on the shelves."
Altering stock cycles
PwC chief retail and consumer adviser Christine Cross says fashion retailers are seeking to lengthen the transitional period that comes ahead of the full spring season launch before Easter.
"At the moment we have a short transitional season, which basically means Sales. Stores are full of lacklustre product [during that period] before bringing in the full spring or autumn range," she says.
"Retailers are doing a lot of work on making this transitional period longer and integrating more interesting product. So they could bring in floral prints, but in warmer fabrics that are going to sell more than white linens in a cold March."
There have been a few perks to the prolonged cold spell, as it has provided some with an opportunity to get rid of leftover autumn stock. However, it also means other retailers have had to hold spring stock in central distribution centres.
Some are now considering holding stock overseas before bringing it into this country when the true fashion season actually begins. "This could also help with capital management as fashion retailers pay duty when products enter the country," says Cross.
Leveraging online
Freezing conditions putting people off trekking to their local high street has inevitably benefited online retailers.
Debenhams boss Michael Sharp said in March that John Lewis' extensive online business had insulated it from the impact of the snow which triggered Debenhams' profit warning.
McCorquodale says: "One could say that [the retail] business model has already changed. Online should diminish the impact of the weather."
Retailers can be more responsive online and can quickly promote weather-influenced items such as raincoats or knitwear when the elements turn. Some retailers already use geo-specific filters on their websites, which could show customers logging on in rainy Glasgow a home page peppered with coat promotions, while shoppers in a sunnier part of the country would be met with a page filled with sandals and sunglasses.
It is also easier to launch promotions online when footfall is declining across the high street during cold weather - these could be based on reductions in price or offering services such as speedy delivery.
"When it's snowing outside, your customers are more likely to be online or on social media, so that's a good way to drive footfall online," says Deloitte retail partner Toby Paxton.
Cross says that the increased importance of online during freezing conditions has instigated a strategy overhaul across retail. "Just because the cold weather is putting people off travelling to stores, it doesn't mean they want to buy winter clothes online. There needs to be more of a push on full-price sales," she says.
A retailer's oversees prowess can also help it to mitigate unpredictable weather, if combined with an agile supply chain. "Retailers with an international footprint could be operating in places that have a different weather pattern from the UK. There is the ability to move product across a retailer's global footprint," says Paxton.
Cross believes a rethink of management structure may be needed to enable retailers to become more agile across their various sales channels. "Rather than being organised by category or channel, it could be necessary to have a head of retail across all channels and markets who has the ability to flex different sales channels as needed," she says.
Sourcing closer to home
Fast fashion players will have weathered the storm better than most, and Paxton believes more retailers should consider vertical integration of their supply chain. That has been a key part of Spanish fashion giant Zara's success. "It allows [Zara] to produce more of its best-selling product within 48 hours," he says.
However, vertical integration can be expensive. Paxton suggests that moving sourcing and production closer to home may be a more economical option.
Irrespective of the weather, the rising cost of production - particularly in China - has caused some retailers to move production closer to the UK, with Eastern Europe, Turkey, the Mediterranean and North Africa increasingly used as manufacturing bases.
"The [savings involved] used to make producing in the Far East a no-brainer, but with the cost of production increasing and the potential for markdown increasing, it's a lot more questionable," says Paxton.
Cross says the economic situation in European countries such as Portugal is opening opportunities to produce clothing at lower prices, making it a lot more competitive against the Far East. Even UK manufacturing is becoming more competitive when retailers take into account the benefit of shorter lead times, according to Paxton.
N Brown chief executive Alan White says the online and catalogue retailer is buying more out of the UK and that will only increase. "The halcyon days of bargain basement prices are gone in the Far East and there's an awful lot of work going on to get manufacturing going in the UK," he says.
Paxton believes the impact on lead times from sourcing closer to home will be substantial, particularly for fashion. "It can help resupply a fast-selling item within days rather than weeks," he says.
Moving production can, however, still be costly and Paxton believes that broadening the supply chain may be the solution. That would be a change of tack for fashion retailers that have increasingly used a consolidated supply base to gain cost benefits, but the shortened lead times would be a major incentive.
Although there are many initiatives businesses can pursue to try to mitigate the impact of increasingly extreme weather, McCorquodale believes retailers will always have some reason to blame it on the weatherman. He says: "You've just got to take it on the chin and hope it works out in your favour the next year."
DIY and garden sector fights back
The prolonged cold snap has made life difficult for DIY retailers, especially in gardening and outdoor categories.
Kingfisher group chief executive Ian Cheshire reported that £25m was wiped off the home improvement group's UK profits in the last year because of bad weather.
The cold snap continued into the Easter bank holiday, one of the most important times of the year for the DIY sector. Sales were "well below what was expected", according to The Garden Centre Association, which represents more than 200 retailers nationwide. Cheshire says Kingfisher, which operates B&Q, tries to tailor its product offering geographically. For example, in the notoriously rainy north of France it stocks fewer plants.
The unpredictability of the weather, which has blighted the DIY and garden sector for the past two years, means Kingfisher is working to become less reliant on weather-dependent products.
The flexibility of Kingfisher's global sourcing operation is likely to help it weather the storm.
The DIY retailer, which operates in countries including Germany, Turkey and China, intends to treat its stock as one single pool which it can move across markets to cater for extreme weather.
Rival Homebase has also leant on its supply chain during the unseasonable weather and has deferred the introduction of bedding plants this year according to boss Paul Loft.
It has also been flexible in its marketing. Loft says the retailer routinely films two different TV ads - one to suit warm weather, and another to suit a cold snap - in order to cater for all conditions. Needless to say, it chose to run paint ads this Easter, rather than push garden-focused promotions.