Holland & Barrett has opened a 6,000 sq ft flagship in London, with a fresh focus on health and beauty, sports nutrition and vegan nails.
Think of health stores and if you live in the UK (or perhaps Holland), Holland & Barrett is likely to spring to mind.
Including a smattering of franchises, it has more than 1,100 stores, with around 800 of them being in the UK.
That makes it an enormous beast, and the proof of this is that it is difficult to name a high street on which it does not make an appearance.
For the most part, its stores are relatively small and in a fair number of cases, as Peter Aldis, chief executive, puts it: "[the] older stores feel a bit sterile."
But this retailer has its sights on better things and for evidence of the direction of travel, look no further than the Marble Arch end of Oxford Street.
More more more
There has been a Holland & Barrett here for some years, but it was small and a mite old-fashioned.
Now it trades from two floors, has a selling area of 6,000 sq ft and is therefore a respectable size by Oxford Street standards.
The logo states that this is a Holland & Barrett 'More' store. It is deep and from the moment the shopper walks in there are views straight to the back thanks to the upper perimeter signage, which is washed with green light.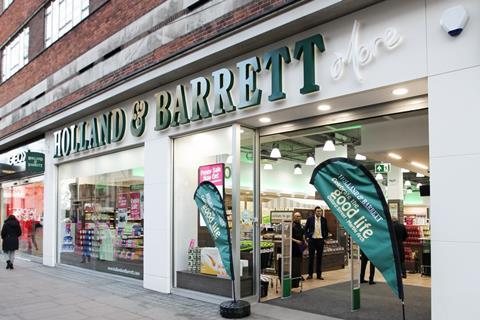 The various departments, ranging from 'Vits and Minerals' to 'A more natural beauty' (featuring, of course, a slice of cucumber as part of the sign), are easily identified when deciding which part of the shop to head for.
The floors are faux wooden planks and the mid-shop display equipment has a dark wood veneer.
And everywhere the shopper's gaze happens to alight, the healthy nature of what is on offer is emphasised.
The breakfast fodder gondola is typical, bearing the legend: 'Superfoods & Cereals Make it a Great Morning'.
There is rather more to this store, however, than pills, roughage and small bottles containing substances that are good for you.
Beauty boom
The beauty area, on the left-hand perimeter at the back, is a case-in-point.
This is something that shoppers might not have associated with Holland & Barrett, but is a growth area for the retailer and the space devoted to it reflects this.
Aldis says: "It's only five or six years ago that we really moved into having a proper beauty offer.
"We've always sourced products without chemicals or micro-plastics. I think that the future will be ethical beauty products."
"We're trying, but we're nowhere near as sophisticated on beauty as we are on health products."
His modesty belies that fact there is a vegan nail bar with a technician who is on hand during busy periods.
"The increase in interest in veganism is significant," says Aldis.
Equally unexpected is the mid-shop fixture that is a market-style barrow home to an olive bar.
Basement buys
The cost of trading from a ground floor location on Oxford Street, even on its far western reaches, is substantial. The various departments all have to pay their way.
Sports Nutrition is therefore in the basement. Aldis says that this part of the business represents around 15% of the total in value terms, but the space given to it is somewhat greater than this.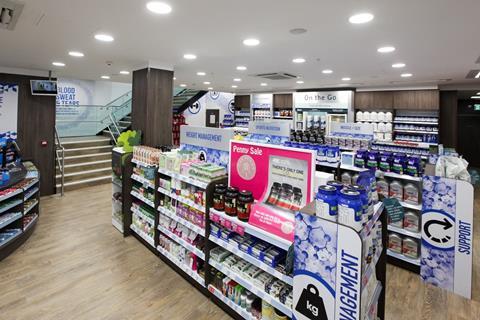 The feel in the basement is overtly masculine, with the displays more utilitarian than the ground floor. There are bold graphics relating 'The Power Of Protein', for instance.
Aldis says that the intention is "to open as many as 50" of the More format stores, saying that "there's a really great audience for health and wellness".
Marble Arch, he says, is a work in progress: "I don't think we've got it quite right."
Nonetheless, this one looks a considerable step forward for the retailer.
And next up for the More treatment? Manchester.
Holland & Barrett, Oxford Street
(Re)opened: January 20, 2017
Store Status 1: A More store
Size: 6,000 sq ft
Number of floors: 2