The retailer is launching international websites as a precursor to physical overseas expansion.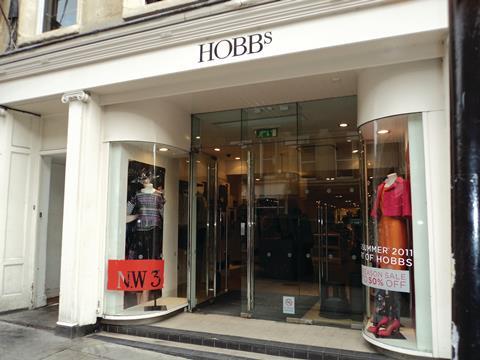 Womenswear retailer Hobbs is casting its net overseas by launching dedicated websites as a precursor to opening physical stores.
International is a central plank to the retailer's growth plans.
Hobbs, which has been owned by private equity firm 3i since 2004, hired PwC in April to explore growth options, which also sparked sale speculation.
Hobbs has upped its spend on multichannel development since 2011 and, as part of an £18m investment, has been increasing the number of markets it ships to and now services more than 20.
The retailer is also developing local websites in France, Germany and Australia with the aim of eventually opening stores in those countries.
The retailer hired Topman online boss Gracia Amico as its first director of ecommerce to help ramp up its overseas online operation.
Hobbs, which targets women aged between 25 to 40, had been slow to expand overseas despite ambitious plans by former chief executive Nick Samuel.
It now has five stores in the Middle East. It had opened shops in Sweden and Belgium which have since closed, and was in discussions to open in Hong Kong, Singapore, Russia and the US although that aspiration did not come to fruition.
Amico is not the only high-profile appointment Hobbs has made in recent times. Former Asos global marketing boss Clare Dobbie joined as marketing director in March to enhance its brand positioning at home and overseas.
Hobbs expansion plans come after it returned to growth following trading problems in the year ended January 2010, when revenues slumped 9% and pre-tax profits shrank from £12.1m to £2.9m.
The retailer was thought to have lost its fashion edge and hired former Jaeger creative director Sandy Verdon, who has sharpened its fashion credentials and made it more contemporary.
Hobbs operates from 128 outlets, half of which are standalone stores and the other half are concessions, mainly in House of Fraser and John Lewis stores.
More recently, Hobbs has focused on developing its standalone network, partly because of the raft of upmarket shopping centres which came on stream in the late 2000s, in which Hobbs wished to be represented.
The retailer has increasingly been looking at larger stores to accommodate its expanding range. Hobbs has increased its product offer to broaden appeal.
There are now four sub-brands within the stable – core brand Hobbs London, which accounts for 70% of sales, NW3, occasionwear brand Hobbs Invitation and Hobbs Unlimited. All feature footwear, clothing and accessories. Hobbs launched NW3 in 2009 with the aim of re-engaging mothers and their grown-up daughters and widening overall appeal. It is offered in 50 stores and concessions and there are three standalone stores for the collection in Westfield London, Spitalfields in East London, and Leeds.
Hobbs Unlimited was launched in September 2011 as a one-off collection for the retailer's 30th birthday. It was aimed at the 35-year-old-plus customer who wanted more contemporary clothing and was priced about 20% higher than the core offer. However, the range was such a success that it was continued as a capsule collection to Hobbs London.
The latest range, launched this spring, is occasionwear collection Hobbs Invitation, which is offered in all stores and has one standalone shop in Windsor.
Chairman Iain MacRitchie, who was hired last November after he headed Hobbs' consumer insight review on behalf of 3i, is spearheading plans to give its sub-brands a more distinctive feel.
Sales bounced back in Hobbs' 2011 financial year, when they jumped 12.2% and pre-tax profits increased to £6.1m. The revival has continued in its last financial year, as sales soared 7.5% and pre-tax profits hit £9m in the year to January 2012.
Although profitability is still below pre-2010 levels, a sharpened fashion edge and international opportunities could make Hobbs an attractive asset for would-be buyers.
Fashion first
Chief executive Nicky Dulieu
Chairman Iain MacRitchie
Owner 3i
Sales Up 7.5% to £110m for the year ended January 2012
Pre-tax profit Up 30.1% to £9m for the year ended January 2012
Outlets 128