With a revitalised brand, rising profits and a new London flagship, Burberry is on the rise.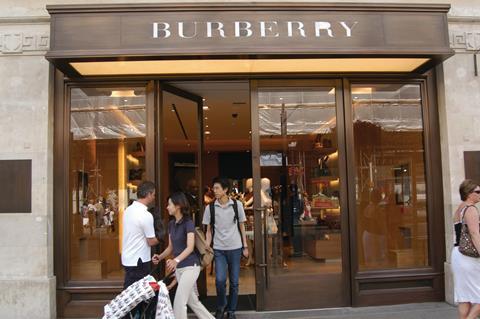 Despite reporting a sales growth slowdown this week, Burberry has been one of the retail stars of the downturn, unlike some others among its luxury peers.
The retailer, which was founded in Basingstoke in 1856 by Thomas Burberry, has increased pre-tax profits from £156.3m in 2007 to £366m in its last financial year, although the global luxury market is reported to have declined 9% in 2009 alone.
Burberry was put through a period of reinvention after becoming staid in the 1990s.
Despite a few challenges along the way, such as counterfeiting and its occasional popularity among a type of customer it might prefer not to have, it has powered ahead with new collections, products and cutting-edge advertising.
The brand has also attracted a younger audience through the launch of more contemporary sub-labels such as Burberry Brit and a digital push that has made it the most successful luxury brand on social media.
The revival drive was started by former chief executive Rose Marie Bravo, and continued by present boss Angela Ahrendts who took over in 2006. Burberry, which has always been synonymous with raincoats, had for a long time created special lines for selected markets such as the Burberry Blue Label and Black Label for Japan targeting a younger audience. However, from 2007 the whole brand has been given a more fashionable edge.
It has a range of sub-brands, each with its own identity. Prorsum is Burberry's most fashion-forward collection – the word comes from the Latin for 'moves forward' – and centres on high-profile runway shows. It also provides design inspiration for its other ranges.
Burberry London, a tailored ready-to-wear offer, is in the middle of the sub-label hierarchy and is designated as workwear for the retailer's core customer.
Burberry Brit, a more casual range of weekend wear, is at the base of the hierarchy. It was launched in 2009, replacing former younger brand Thomas Burberry, and has significantly increased interest from younger consumers.
The group has increasingly moved away from its wholesale roots to become a more dynamic, responsive retail-led operation. In its 2005-06 financial year, retail sales accounted for just over 40% of the total. That is now approaching 70%. Group sales were close to £1.9bn in its last financial year, and £1.3bn came from retail.
Although more than 200 of its 450 outlets are concession that has been reducing steadily as Burberry focuses on opening stores in key locations. In the UK, the retailer had 18 outlets in its last full year, and is estimated to have achieved retail sales of £70m in this country. Its domestic store portfolio has grown slowly in comparison with its global operation and is London-centric.
It has four prominent London shops, including a new Regent Street flagship. Burberry also plans to extend its Knightsbridge shop as part of a wider push in the capital, where its stores are viewed as global showcases.
Burberry has a strong international following, particularly in the Far East, especially Japan. The retailer is focused on expanding in emerging markets including India, China, the Middle East and Eastern Europe and has added nearly 100 stores in such regions over the past five years.
In a key strategic initiative, the retailer acquired its 50-strong Chinese retail portfolio, which had been operated by franchisees, for £65m in 2010. With China set to be an important growth market over the next few years, Burberry is well-positioned to benefit.
As part of its efforts to target younger customers, Burberry has heightened its focus on online initiatives and digital marketing.
It launched a single global online platform last year and, complementing its social media prowess, makes use of digital technology in stores.
As part of the revitalisation of the brand, the product range has been extended significantly with the introduction of footwear, jewellery and home products, reinforcing its status as a luxury lifestyle brand.
With plenty of opportunities still to go for overseas and by expanding its ranges, Burberry's growth looks likely to continue long term, even though there has been a hiccup.
The bottom line
Chief executive Angela Ahrendts
Group sales 2011-12 (ex-VAT) £1.85bn
Retail sales 2011-12 (ex-VAT) £1.27bn
Pre-tax profit 2011-12 £366m
Gross margin 2011-12 69.9%