Tesco's re-imagining of big-box retail has introduced radical new shopping and leisure elements to its traditional food offer. Jon Severs finds out how the rest of the grocery world is reacting.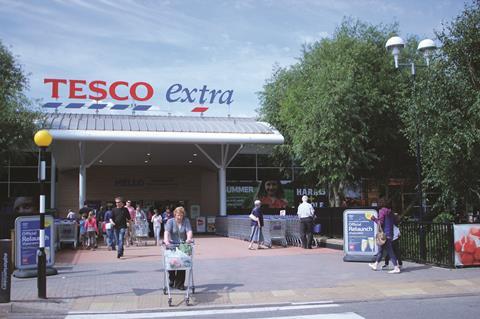 Tesco's reopened Extra store in Watford is part of chief executive Philip Clarke's plans to put warmth into the grocer's big-box stores and turn them into destinations for shopping and leisure.
Featuring restaurant Giraffe, Euphorium Bakery, coffee shop Harris + Hoole, City Kitchen deli and Bakery Project, the store has been reinvented to cater for shoppers' rapidly changing needs.
It was a rethink that was long overdue, believes Bryan Roberts, director of retail insights for Kantar. "The hypermarket concept is not obsolete - they still pull in a dedicated portion of the market - but it does need a degree of reinvention," he says.
Kantar estimates that sales in big box stores will account for £25bn of the UK grocery market in 2017, dropping just 0.4% from current figures.
That's not to say those figures are guaranteed - Roberts says supermarkets have to work much harder to make their big boxes work. This is because much of the traditional general merchandise that takes up floor space in these multi-purpose palaces - DVDs, music, books and computer games - is being bought online or in specialist stores.
Making the most of offline
So how has Tesco gone about filling the void? Firstly, in Watford it has conducted a redesign of the general merchandise areas that still perform well offline - namely clothes and homeware - to make these sections of the shop more department store-like. Secondly, the new concessions mentioned above have filled the space vacated by products that have moved online. The store also features community spaces, a beauty and cosmetics area and an extensive wines and spirits section.
The grocer has also been busy this summer opening two further remodelled Extra stores in Purley and Coventry. While they don't feature Giraffe and Harris + Hoole, the stores have been made more compelling shopping destinations, with the introduction of elements such as refreshed bakery and fresh food areas.
Are we to take this as the Tesco vision of big box in the future? Earlier this month, Tesco chief executive Philip Clarke said 2014 will be the "year of the hypermarkets" as he unveiled plans to refresh more than one a week. Clarke revealed the grocer will make a "huge investment" as it seeks to remodel between 60 and 75 big box Tesco Extra stores next year.
Tesco, which reported a 7.6% drop in group trading profits in its first half to £1.6bn and group sales up 2% to £35.6bn, said it has made improvements to 30% of its larger stores in the period, and average sales uplifts are running at between 3% and 5%.
Clarke added that Watford is seeing uplifts "stronger than the others [in Purley and Coventry]", giving it confidence to roll out remodels next year.
Leading or following?
Tesco's remodelling of its Extra stores has set a "high bar" for other supermarkets to follow, according to Roberts. Yet Sainsbury's and Asda could argue that Tesco was the one doing the following.
In November last year, Sainsbury's opened its King's Lynn store. As in Tesco Watford, the clothing and cookware areas were redesigned to have a more department store feel.
Meanwhile, Asda covered the community angle before Tesco, having launched its Community Life programme 18 months ago. This offers everything from karate classes to DVLA theory test centres in dedicated in-store areas. It's fair to say, however, that neither has re-engineered their spaces to the same extent as Tesco.
And there are differences in approach. Whereas Hoggett says the mix of food and non-food at Tesco Watford is roughly 50:50, a Sainsbury's spokesperson says: "We always ensure that any store of this size is 'food first' with the general merchandise offering smaller than food."
Sainsbury's King's Lynn store gives an indication of what the grocer's future direction might look like. Head of store design Damian Culkin told Retail Week the shop's high design standards were an attempt to match those of Waitrose.
Its concentration on clothes and homeware, and store-within-a-store spaces for phones and pharmacy, are likely to be continued in other Sainsbury's stores as well. Roberts believes the grocer will look to expand these services further, as the format's "ability to sell general merchandise is quite powerful".
Asda chief executive Andy Clarke told Retail Week Live this year there is a need to reinvent the hypermarket and revealed Asda was on the hunt for concession partners to take space in its largest stores, to add to its deal with Disney.
With Disney concessions now in five Asda stores and the retailer reporting a year-on-year sales uplift of 125% on Disney products at those stores, that policy is unsurprising. But picking the right partners may be tricky.
The community angle is also something Asda will look to continue and perhaps expand upon.
The retailer says it facilitated 37,000 community uses in stores and depots last year alone and cites a YouGov survey that found 53% of people were more likely to buy products from a company that is active in the community.
Asda will not confirm or deny particulars of future strategy, but a spokesperson said: "Looking at retail not just as something in boxes means we can free up space in stores and give it back to customers. We're looking at ways to use space differently in our stores."
Roberts cannot see that transformation being anything near the scale of Tesco. "They're unlikely to 'do a Watford' everywhere, but they will try to find a low-cost way of improving their general merchandise offer," he says.
A cautionary tale
However the supermarkets approach their respective transformations, there is a stark warning from across the English Channel that getting the change wrong could be incredibly damaging. Carrefour's attempt at rebranding big boxes in the form of Carrefour Planet - a redesign that included stores-within-stores and a department store-like layout - did not go as planned.
In 2012, the roll-out of the Carrefour Planet format was put on hold after profits dropped. Chairman and chief executive Georges Plassat has since confirmed the retailer has ditched the idea altogether, and all stores already converted to Carrefour Planet have been reverted back to simple Carrefour stores.
In the UK, for a sector that tends to prefer baby steps when it comes to making changes, the future for big-box stores is likely to be an evolution of what is already on offer at Watford and King's Lynn.
Whether that is enough to keep hold of consumers increasingly enticed by the bright lights of online and the ease of
convenience stores only time will tell. But with B&Q reporting it may mimic Tesco's approach of investing in complementary businesses to fill store space, other retailers seem to think there is a winning strategy in there somewhere.
Can the new approach save the big box?
David Martin, joint managing director for retail design and branding agency M Worldwide, argues that Tesco, Sainsbury's and Asda need to place eating and drinking opportunities in aisles. Then shoppers could buy food from counters or fresh produce displays and eat it there and then, with a coffee, rather than being hived off into set-space cafes. "There is so much of interest happening around those areas of the store, so why can't people sit and soak that up?" he says.
Supermarkets should also be thinking more laterally when it comes to the outside elements they concede floor space to, according to Simon Hathaway, global strategic leader for shopper marketing and retail operations at advertising agency Cheil. "Supermarkets could sell over-capacity space to brand owners who need to create 'points of experience' where people get to directly touch and play with their products," he adds.