For the first time retailers can purchase display advertisements with retail giant Amazon to draw traffic to their own sites.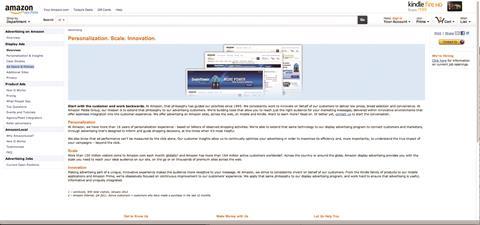 Why are we talking about this now?
Online retail giant Amazon last week launched display advertising for third-party retailers on its website. The ads appear in certain locations on a product page when a customer searches for specific or related products on the site.
When a customer clicks on the advert they will be directed to the retailer's website to purchase the product directly.
How does it work?
Those retailers that want to sign up to product ads must have an Amazon seller account. They then upload the products they want to show in the ads and set the amount they are willing to pay for the adverts to appear. Amazon will then automatically post the adverts in different locations on the site's pages to help drive traffic to the seller's website.
Sellers are charged a cost per click, so every time a shopper clicks on the external product advert, Amazon takes a fee. The fee is based on what the seller sets as a bid for the ad - the higher the bid, the better its position on that product page. The service is understood to be unique.
Why is Amazon introducing this?
For Amazon, the ads drive revenue because they offer a service to its third-party sellers, allowing them to reach more customers and increase brand awareness.
Econsultancy senior research analyst Monica Savut says it is also a way for Amazon to ensure it keeps an eye on the larger retailers.
She says: "US retailers, such as Target, have started to launch exclusive products to counteract the showrooming effect of testing the product in store, but customers purchasing it from Amazon.
"Other retailers have started to match Amazon's prices. So Amazon is introducing this to make sure it still gets a slice, even though indirectly, of retail sales. Amazon is developing 'frenemy' relationships."
According to Amazon, customers also benefit from the ads because they give them an even greater selection of products to choose from beyond its own ranges.
What are the drawbacks?
The obvious drawback is that Amazon is effectively directing customers away from its site.
"Display advertising might end up cannibalising some of its business. Ads would need to go through a vetting process to make sure their sales are not affected," Savut adds.
However, given Amazon's strengths in discovering new ways to entice shoppers, it is unlikely to be too concerned it will lose custom.