Latest news, insight and analysis on Jaeger
Jaeger is a fashion retailer positioned in the affordable luxury end of the market. Sales in the UK increased to £82.8m in 2010/11, but profitability has come under pressure of late. The business was sold to private equity firm Better Capital in April 2011, with previous owner Harold Tillman retaining a 10% stake.
There was significant movement in the market for in-demand ecommerce executives in April with Jaeger, Supergroup and Levi Strauss all making senior appointments.
Full company profile for Jaeger, including: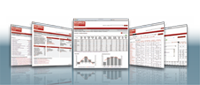 Powered by: