Impressive profits are proof of the Spanish retailer Zara's dominance in UK mid-market fashion.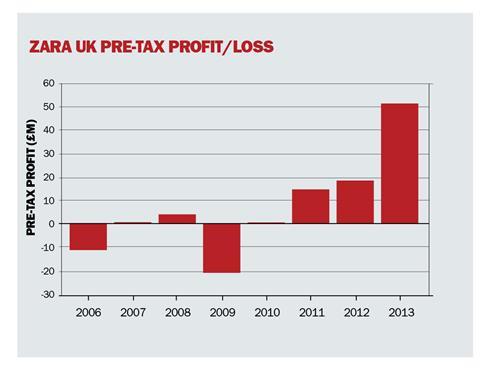 Spanish giant Zara has become one of the UK's best-loved fashion retailers since setting up shop here in 1998.
The Inditex-owned business, which sells mid-market, value-orientated clothing, was rated the favourite brand of 23% of UK women between June and December last year, according to fashion recommendation site Dressipi.
Zara, which now has 65 UK stores, has a straightforward mission statement: to offer innovative, on-trend designs at a competitive price.
And it is certainly fulfilling its mission. Zara, where it is common to see both mothers and daughters shopping in its stores, generated soaring UK sales up 20% to £442.7m in its year to January 2013, and pre-tax profit rocketed 168% to £51.8m.
Zara has been a pioneer of fast fashion in the UK and its entry onto the high street forced other retailers to follow suit. The retailer has used its vertically integrated business model to stay ahead of the game and be profitable.
Its 300-strong Spanish in-house design team, which oversees product, is able to translate the latest catwalk trends into stores at some of the fastest speeds in the industry. Garments can move from concept to shelf in just a fortnight. It is able to work at such pace because it sources a large proportion of the offer from factories it owns in Europe.
Its slick operation has led to one trade peer referring to Zara as "possibly the most innovative and devastating retailer in the world".
It is estimated that Zara produces about 12,000 styles per year, compared with the retail average of 3,000.
Zara started life as a lingerie manufacturer, founded in 1963 by Amancio Ortega, who last year was ranked by Forbes as the third richest man in the world.
It opened its first shop in the Spanish city of La Coruña in 1974 selling underwear before later branching into womenswear, followed by menswear and kidswear.
It was only in the late 1980s that the retailer started expanding overseas but it has now grown to almost 2,000 stores globally, including its kidswear fascia.
Since its 19,000 sq ft Regent Street flagship opened in 1998, Zara has expanded steadily in the UK, although its growth has slowed in recent years. Its store numbers have only increased by a net two in the past four years.
However, the expansion slowdown has boosted profitability in the UK. Losses stood at £20m in 2008 to 2009 and have improved to a profit of £51.8m in its most recent UK company reports.
One of its recent openings has been its slickly designed Oxford Street flagship, which opened in December 2012.
The store, which is in the Park House development near Marble Arch, features a "stripped-down environment" and was designed to emulate "an upper-end, luxury environment", according to Dilip Patel, who was UK managing
director at the time.
The three-floor, 16,145 sq ft store has video screens featuring footage of the brand as well as 'chill out' areas. Zara's store estate has a London bias and 19 of its 65 shops are based in the capital.
The Marble Arch store is its fourth on Oxford Street but Zara is not stopping there. It is understood to be eyeing a fifth shop in the revamped east end of the UK's premier shopping street.
Zara's management team has undergone some change in recent years. The well-regarded Patel moved to the US to take the reins of Inditex's business in the country, and the boss of its Italian arm, Lorenzo Marcheselli, subsequently took over the UK.
That followed close on the heels of the retirement of founder Ortega as chairman in 2011.
However, despite the management changes, it appears Zara's UK growth has not been derailed. According to Retail Week Knowledge Bank, the significant improvement in profitability may mean management will seek to expand the format again.