More misery expected as retailers collapse and pressure on disposable income mounts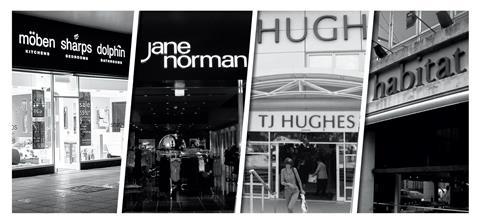 Retail sales volumes this year are expected to be worse than during the depths of the recession and are unlikely to improve next year.
The warning came after a calamitous week when a raft of big names collapsed into administration or signalled that likelihood, while others warned that trading conditions were as bad as they could remember.
The volume of retail sales is likely to slip by 0.5% this year and stagnate next, Capital Economics forecast, as consumers' disposable income is squeezed. In 2009, the worst year of the downturn, volumes still rose 1% according to Capital Economics senior UK economist Vicky Redwood.
The unforgiving retail climate has been made starkly clear over the last week as homewares specialist Habitat's UK business, plus womenswear retailer Jane Norman, both fell into administration. Furniture group Homeform and discount department store group TJ Hughes were both expected to appoint administrators as Retail Week went to press, while Life & Style remained in administration.
Signs of distress on the high street were also evident in chocolatier Thorntons' decision to close between 120 and 180 stores and 's early launch of its summer Sale.
Redwood expects overall real consumer spending - including non-retail expenditure - to fall 1% this year compared to a 3.3% decline in 2009. She said: "We're not going back to recession but we're a long way from recovery."
Store chiefs cautioned that trading conditions are among the grimmest ever and they see no sign of improvement in the short term.
JD Sports chairman Peter Cowgill said: "The market is worse than 2008. Footfall is definitely down. We're on Sale, like everybody else, trying to drive additional footfall."
He warned the industry will suffer more job losses and blamed landlords for making life harder for retailers and triggering administrations.
"It's been coming for a while because of the incessant drive to push rents upwards and the inflexibility of leases," he said. "It means as soon as there is a downturn, the marginal retailers go. Rent day has pushed those on the edge over."
One top retailer said some stores are trading as much as 25% down and retailers are pulling out the stops to draw footfall with promotions. "It's bad out there," he said.
However, another chief executive disputed the fact that the sector is in meltdown: "A lot of the businesses that went in the last week were structurally challenged," while Karen Millen chairman Derek Lovelock said: "Brands with a clear differentiated offer are in a better position."
Furniture retailers have found life especially hard. Last week the British Retail Consortium called a crisis meeting between furniture retailers, the Department for Business and the Bank of England to discuss the scale of the challenges facing the furniture industry. It is understood that retailers including DFS, John Lewis and Harrods attended.
Carpetright founder Lord Harris said conditions were as harsh as any he has experienced in more than half a century in the business. He said: "I see no respite over the next year."
One furniture retailer who wished to remain anonymous said: "There is still a lot of pain to go through. Since the VAT rise everything's taken a nose dive."