WHSmith's diversification continues with the acquisition of the Past Times brand. Will it be a good fit and what are the wider plans?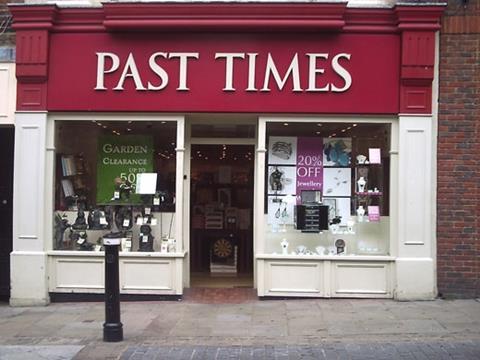 Why are we talking about this now?
Last week books and stationery retailer WHSmith revealed it had bought the Past Times brand out
of administration.
The acquisition of gifts specialist Past Times fits with WHSmith's drive to diversify its offer outside its traditional core categories.
What is Past Times' history?
Past Times had almost 100 stores when it filed a notice of intent to appoint administrators in January last year, which resulted in all stores closing and its disappearance from the high street.
It was among a series of established retailers that collapsed last year after being hit hard by the recession.
Past Times had reported a £1.5m loss before tax in 2012, compared with a £500,000 profit the previous year, and private equity owner Epic had been unable to save it. It was founded in 1986 by John Beale, who also developed the Early Learning Centre.
Why has WHSmith bought Past Times?
WHSmith has worked hard to shift its product mix away from low-margin categories such as CDs and DVDs, and the Past Times acquisition is another way for the retailer to diversify. For instance, in 2010 WHSmith snapped up the Gadget Shop brand from toy retailer The Entertainer.
WHSmith said it will use the Past Times brand predominantly for the Christmas gifting range in the same way it uses the Gadget Shop brand.
Group finance director Robert Moorhead said there are no plans at present to open standalone stores or launch an online presence for Past Times.
How else is WHSmith diversifying?
WHSmith bought greetings card retailer Funky Pigeon in 2010. It was originally an online-only retailer, but following strong demand WHSmith opened standalone stores, which are very different from its own shops.
Last year WHSmith signed a deal with Canadian ebook business Kobo to stock its ereader devices exclusively. The ereaders sit alongside its physical book offer in branded areas.
WHSmith is also trying out new fascias such as a WHSmith Books Plus shop at Heathrow Terminal 4 and three children's shops called Zoodle, two in Manchester Airport and one in Melbourne Airport.
It is also trying out a WHSmith Express store at East Midlands Airport.