WHSmith is to launch a new store format that will offer personalised greetings cards and an upmarket stationery offer.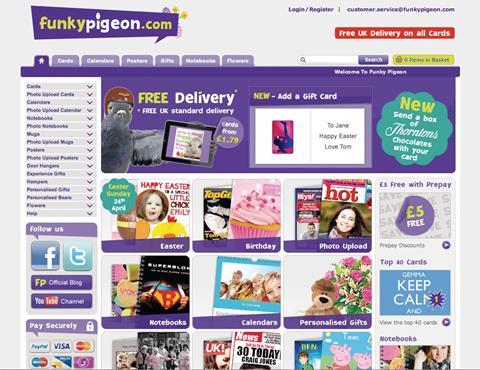 The bookseller and stationer will open three Funky Pigeon stores in high footfall railway stations in and around London in the second half of the year. Funky Pigeon is its online greetings card store that offers personalisation, pitched against rival etailer Moonpig.
WHSmith managing director of high street retail Stephen Clarke likened Funky Pigeon's fashionable and design-led stationery to Paperchase.
Customers will be able to personalise greetings cards using in-store tablets, and to print from the stores, whose locations WHSmith said had not been finalised.
Cards giant Clinton Cards is also about to launch a high-tech store format that will include personalising cards.
Last week WHSmith revealed group pre-tax profit rose 3% to £64m in the six months to February 28. Group total sales declined 4% to £686m with like-for-likes down 5%. Travel operating profit jumped 9% to £25m while profit at its 581 high street stores remained flat at £47m.
Stationery like-for-likes were down 2% while books fell 3%. WHSmith said the books market "continues to be soft with performance varying by sub-category".
News and impulse like-for-likes declined 4%.
Clarke said it was a "good performance" but that the second half was likely to be "every bit as tough, if not tougher" than the first. WHSmith said although its travel arm performed well despite continued soft passenger numbers, air and rail were hit by the weather before Christmas "and the economic climate more generally".
The retailer said it continued to "identify opportunities for growth in the UK", opening 11 new units in the period, including two in airports, one in a railway station, three in hospitals and five workplace units. During the second half of the year it expects to open 22 shops, including the three Funky Pigeon stores.
Internationally, WHSmith has started to look outside of airport locations, including its first overseas shopping centre store that will open in India.