After last week's £2 sale of Comet, debate is raging over whether its new owners can turn the ailing electricals retailer around. By Rebecca Thomson.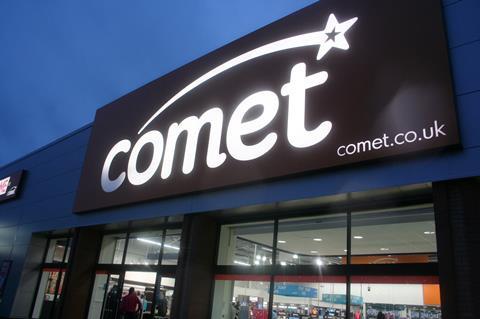 It has been a dramatic time in the electricals market. Best Buy's planned retreat from the UK and Kesa's sale of Comet for £2 is the culmination of a difficult few years, and the sector's problems show no sign of disappearing just yet.
The category has been hit hard by the recession and its aftermath, suffering falling margins and restricted consumer spending. And while Best Buy's decision to shut its big boxes will give Comet and Dixons more breathing space, some observers are not convinced there is room for two big players in the long term.
"There's a place for Dixons or Comet, but there is possibly not a place for both of them," says Toby Lousada, a former Comet director and now non-executive chairman of online retailer Buy It Direct. "Market conditions are working against them."
But Comet's new owner, private investment firm OpCapita, insists there is hope. Strategic details are yet to be finalised and will be revealed in February, but OpCapita managing partner Henry Jackson says the dour tone in which people talk about the electricals market misses the point and underplays its potential.
"Everyone says the sector is dead. I find that hard to imagine. It has £20bn turnover a year and accounts for 1% of GDP – and the Comet brand is very much a relevant brand," says Jackson.
He says the innovation coming from companies such as Apple and Sony means the sector's long-term growth potential is still big, and Comet's historical reputation for value and service stands it in good stead to retain a place in UK retailing in years to come.
But optimism notwithstanding, OpCapita and Comet's management team has a big job on its hands. Comet has a market share of 7.8% compared with Dixons' 19.4%, according to analyst Conlumino, and Comets' sales figures make for depressing reading.
Sales have been in decline since 2008/09, according to Retail Week Knowledge Bank, with losses mounting across the 250-store firm. Comet suffered a loss of £9m last year and a like-for-like sales plunge of 18.6% between May and the end of October, and management has identified a handful of stores that need to be closed this year.
Investing in the future
It will be hard to reverse Comet's difficulties, and it will not be achievable without investment. "Kesa has really run down investment and there's a lot that needs to be done," says Conlumino managing director Neil Saunders. "That's a challenge when it's been making losses, but if Comet is to be a success in the future it will look very different to how it does now."
Jackson says OpCapita won't shirk from investing in the retailer but says it is yet to be decided where the investment will happen. "We have always invested quite significantly in the businesses we own – it's a question of where one invests. When we invest we do so with real commercial reasons."
As for what Comet might look like in the future, Jackson says multichannel and online retailing will without doubt be priorities for the management team.
He says the retailer's online arm already has a turnover of £200m and that a cohesive multichannel strategy is one of the first things it needs to produce. "Customers want a multichannel proposition and Comet has wrestled with what that means in the past," he says. "It's a big opportunity for us."
Lousada agrees there is plenty to go for in multichannel, and that a strong offer could help Comet survive in much the same format as today. "They've never really worked hard on the multichannel proposition and there's more to be played for," says Lousada.
But while Comet's online offer will be an area of focus, Jackson says there are no plans to become a pure-play etailer. A handful of stores will close this year, but he emphasises: "We have no intention of closing large numbers of stores."
In fact, he lists Comet's store estate as one of the retailer's big advantages, and says its smaller stores are convenient and easier to shop than big out-of-town sheds. Not only that, but smaller stores mean lower costs as well, because of lower rents and fewer staff.
The cost of value
Keeping costs under strict control will be one of OpCapita's main concerns, but will it be enough to enable Comet to compete on value? Jackson says the company's heritage in white goods, its value credentials and its reputation for service will all be discussed with Comet's management team during upcoming strategy meetings.
But, with the grocers and Argos providing a big value offer, can Comet really hope to muscle in? Jackson concedes the grocers do value retailing well, but that won't stop Comet from doing it well too. "Everyone is competing on perceived value – it's a question of both price and broader proposition. Mixing products is important," he says.
Planet Retail research director Rob Gregory says going down the value route could work for Comet. "The advantage is that this positioning wouldn't require as much investment and customers would be more forgiving if a store didn't look fantastic. It will put them in competition with non- specialists, but it's going to be difficult for them to find another proposition."
So value is one possibility – but Comet's smaller high street stores could also be well suited to a bit of Apple-style experiential retailing. Customers want electricals retailers that are able to help them learn about the digital world, Saunders says, and help them understand what technology is able to do.
Apple's foray into retail has been resoundingly successful and other electricals retailers can learn from its hands-on approach to retailing – it teaches things the grocers can't copy, such as better display of products and cutting down the number of lines sold.
"Comet needs to think very carefully about what people want from electricals retailers these days. It's very different to what people wanted even a couple of years ago," Saunders says.
Taking on Dixons
But there is presumably a limit to the scope for investment, which may make it a challenge for Comet to follow Dixons down the service-focused road.
Not only has Dixons spent on advertising to get the message out, but training staff and launching its Knowhow service has also cost some money.
Lousada says one of Comet's advantages is its service reputation – it has its own after-sales home delivery service and a strong brand. But there is a question mark over whether it will have the resources to spearhead as strong an emphasis on service as Dixons has for Currys and PC World – especially in a market where customer service-focused John Lewis is gaining ground.
But Ed Connolly, buying director of electricals and home technology at John Lewis, says price and service go hand in hand, and that a successful proposition in the sector will encompass both. "Price in electricals is key, and is part of good customer service," he says. "Our number one priority is to make sure we are true to our Never Knowingly Undersold pledge."
The crucial thing for Comet, Connolly says, is to come up with a brand proposition that impresses. "It is going to have to do something different," he says.
But while breathing new life into a brand is difficult, others have managed it before. It can happen surprisingly fast, or go rapidly in the opposite direction.
"You can change perception and your brand quite quickly by not living up to expectations or by over-delivering," says Connolly. "It takes a big statement of intent and it will depend on what the new owner's response is."
So Comet's management needs to strike the right tone when it takes over in January, that could be a big first step in turning the business around.
Comet certainly has a battle on its hands, but while it has some strengths, it also has hurdles to jump. The nitty-gritty of value and service will be crucial, but it will ultimately be the reinvigoration of the brand that determines its long-term viability.
Comet's rocket - new owner Henry Jackson in the hot seat
A whirlwind of energy, determined, well connected and with a smile that exudes self-confidence, Comet's new owner Henry Jackson comes across every inch the North American corporate financier, writes George MacDonald.
He also has a real affection for the retail industry, which kept him busy in former roles as head of Deutsche Bank's European consumer and retail group and at Peter J Solomon, a private investment bank focused on retail.
It was in 2006 that he struck out under his own steam to make it as a retail company owner with the formation of Merchant Equity Partners, OpCapita's predecessor company, bringing on board seasoned retailers such as former Somerfield boss John von Spreckelsen and ex-Halfords chief executive David Hamid as operating partners.
Merchant Equity, like OpCapita, focused on opportunities to which it could bring long-term operational and financial improvement. Jackson didn't have to wait long – his first acquisition was ailing MFI.
But, although MFI was returned to profitability within 18 months, the effects of the ballooning financial crisis following the credit crunch hit performance.
MFI was sold at "a small profit", but went on to hit the buffers under new owners in 2008. During MFI's death throes, Jackson found himself the focus of ferocious press coverage. Dubbed "the flat-pack fat cat", he was vilified for watching his son play football while the future looked bleak for MFI employees.
Today Jackson says he is proud of what he and his team achieved at MFI and "gutted" by what subsequently happened. But he is also able to point to the example of continental furniture and electricals retailer BUT which, like Comet, he acquired out of Kesa, as evidence of his capabilities.
Jackson will be conscious of the scrutiny that Comet will come under and determined to make the business a success. The challenges are undoubted but few would question that what the single-minded Jackson does, he does wholeheartedly.