It's two years to the week that the London Olympic Games start and John Lewis is preparing a store with a difference.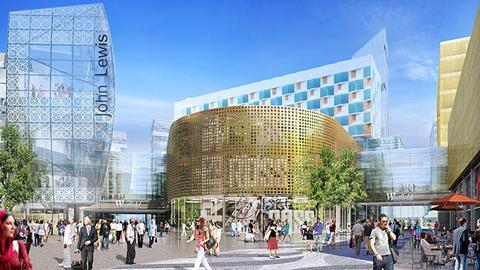 It's just as well that East End doyenne Tracey Emin created her My Bed installation when she did. Had Westfield's Stratford City development been open she might have been wooed by "that awfully well brought up young man in the homewares department" and would instead have unveiled a tastefully appointed bedroom set in the season's on-trend colours. And what a cultural loss that would have been.
For yes, John Lewis Partnership is busily preparing to open in London's east amid the sporting iconography of the Olympic Park with a full-line department store to anchor developer Westfield's Stratford City. The striking store façade - which looks across to the Olympic stadiums - correctly implies that this will be no ordinary John Lewis, with the retailer pledging an edgier offer for the achingly hip media and finance darlings residing within a traditionally working class enclave.
For a retailer that is famous as Middle England's favourite shop, that's going to require something different, and that's what John Lewis is trying to achieve by investing up to £40m in the 260,000 sq ft store (155,000 sq ft of selling space) housed in a four-storey, landmark building, to open next year.
"The Games were the catalyst for us. Without the Olympics I don't think we would have seen the investment in the area, so when London won it, we decided we could commit," Collins emphasises. "In many ways, Westfield's shopping centre is the first real legacy of the Games."
Stratford is just seven minutes from St Pancras by train, with links to Essex, Kent and the M11 corridor, and will cover 1.9 million sq ft, becoming the ninth largest shopping centre in the UK upon opening. "That critical mass is important. It is also in east London, which is the only direction London can really expand. We believe Stratford has the second-highest sales potential of our stores after Oxford Street," he says.
But tapping into this rich seam will provide John Lewis with the challenge of creating a relevance to younger, hipper consumers. "There are a disproportionate number of young professionals living and working in the area and the City, many of whom have not reached the life stage of the core John Lewis shopper," he concedes. "So we have to engage with that consumer and work out how we can be useful and relevant to them, while not making changes detrimental to our wider shopper base."
The architecture, both internal and external, will do some of the job. "The exterior of the store marks that change immediately," he says. "We believe it will become an iconic store, with lots of external glazing that will bring in natural light, regulated by the circular exterior motifs which, by a happy coincidence, are redolent of the Olympic Rings. But it was important that the façade was also timeless, it could not be too of the moment."
For the interior - with its central, trademark atrium - Collins says the mix and the assortment will be adjusted for the catchment, with some edgier elements and an "upweighting" for fashion, including new brands. "It will have a bit more zing to it," he says.
Managing the masses
John Lewis is committing to the community and the role of recruiting and training partners from the local surrounds. "In an area with a lot of social deprivation that can be tough, but we learnt a lot from our openings in Cardiff and Leicester and it's something we believe we are good at," he says.
Collins also praised Westfield, which came in for some stick from retailers when it opened Westfield London in 2008. "Our experience in dealing with Westfield for Stratford has been exceptional," he stresses. "I think after the brickbats it received over Westfield London, the delivery and engagement here have shown what it is capable of."
There is the small matter of retailing through the Games too. John Lewis is the official department store provider for the Olympics 2012 and it is establishing in-store shops of about 5,000 sq ft at both Stratford and Oxford Street, selling official merchandise.
"It was a significant decision, those opportunities are not cheap," Collins says. "But we felt, also because of our backing for partners attempting to compete at the Games, that it was a commitment we should make."
A bigger issue is how the retailer manages the estimated 180,000 daily visitors during the Olympics. "We have a dedicated team set up to liaise with Westfield and the other retailers. The team travelled to Vancouver to see how retailers dealt with the Winter Olympics recently and issues such as heightened security, plus limits on delivery times, while still providing the speed and efficiency of service," he explains.
But such challenges are for another day. First there is the no less pressing matter of the store hand over in September and reaching out to young pretenders who, unlike their married-with-kids peers, have not yet realised how indispensable John Lewis is to their lives.
Make yourself at home
The decision to open in Stratford neatly embodies the Partnership's greater vision, which seven years ago saw the retailer set out a programme designed to put it within reach of more UK shoppers and which latterly has been realised through a smaller home and furniture format and the ramping up of its online offer.
It's a point not lost on property director Jeremy Collins, who reflects on
the impact of the '10 department stores in 10 years' initiative - albeit deflected by the recession - which has reinvented John Lewis as a retailer with greater national reach and the courage to move out of its comfort zone.
Stores have opened in Liverpool, Cambridge, Leicester and Cardiff.
"The objective reinforced the growing sense of ambition in the business," says Collins. There are projects still in the pipeline, notably Westgate in Oxford where there is fresh impetus after its acquisition by The Crown Estate and Land Securities.
The retailer also opened John Lewis At Home in Poole in October - a format focused specifically on its furniture and homewares offer. It has pledged to open a further three such stores this year in Croydon (where John Lewis still aims to open a full-line department store) in August, then Swindon and Tunbridge Wells in the autumn.
"The recession and the slowdown in our department store plans caused us to look again at what customers would like from John Lewis and the At Home format emerged," says Collins. "Not everywhere can sustain a 250,000 sq ft department store but we still had to determine what that smaller model would look like and find locations with above average affluence levels."
Managing director Andy Street has already enthused that John Lewis has identified "30 to 50 locations which would be suitable for the John Lewis At Home format".
And Collins says the retailer is busy learning from Poole: "We have been refining the assortment, looking at the balance between furniture and soft furnishings and merchandise presentation. We've also looked at some of the behind-the-scenes facilities for our partners," he reflects. "We have increased the visit frequency through the assortment. We had a long debate about the capital investment in each store, but people come to John Lewis with a certain expectation and we decided a big, white box on a retail park was not appropriate."
At Home's size and roll-out scale brings John Lewis into the more mainstream retail world of store delivery and Collins admits: "We have had to adjust our structure and the speed of development is much faster, which has generally been positive. It means you have to make decisions and then stick with them. That's a great discipline."
With a thinly veiled glee that suggests Collins has enjoyed losing some of the inevitable shackles of opening a juggernaut like a full-line department store, he adds: "I'd say we have evolved from a department store retailer to one of the premiership retailers in a multichannel sense, because John Lewis Direct has been a huge success and sales growth has been remarkable."