Shopping centre developer Westfield has sold its controversial stalled Bradford scheme to European fund manager Meyer Bergman, it is understood.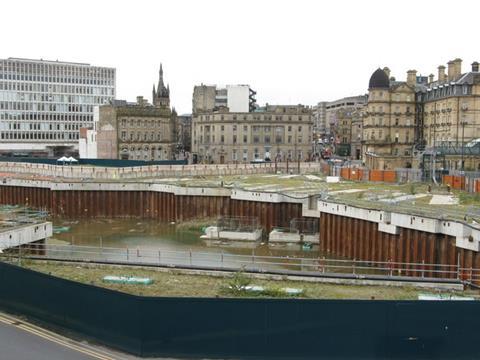 The abandoned 23-acre site was mothballed by Westfield, which owns the shopping centre in Stratford and its Westfield London mall in Shepherd's Bush, in 2008 after the redevelopment was hit by the recession.
It is believed the deal will be completed within the next two weeks which will enable construction to begin next year, The Times reported. The centre could be open by autumn 2015.
Meyer Bergman, which manages retail property in Europe and owns the Burlington Arcade in London, is understood to have agreed to buy the scheme from Westfield for around £200m.
Under the agreement, Westfield will build the scheme, branded Westfield Broadway, and manage it for a fee once it has been completed.
Westfield was strongly criticised for its decision to mothball the site in 2008 after it had already cleared it and laid foundations.
Over the past year Westfield had attempted to restart the scheme. It re-ignited discussions with retailers last year and resubmitted a planning application for the scheme, which comprises 550,000 sq ft of retail and leisure space.
In August this year, it was reported the developer was mulling a sale.
A spokeswoman for Westfield said: "Westfield is not prepared to comment on speculation. Westfield is committed to progressing The Broadway scheme in Bradford and is focused on the preletting of the scheme before it can commence on site.
"Westfield has in fact recently announced that Debenhams has signed an agreement to extend its proposed store in the Broadway development. This follows the latest announcement of the completion of its major anchor store lettings with the signing of Marks & Spencer. Next has also recently agreed to open a flagship store in The Broadway scheme - its second in Bradford. There is strong interest from a range of major stores and specialty shops given the relatively untapped retail market in Bradford City Centre."