Retailers in London's West End reject Goverment offer of relief on this week's changes to business rates as "extremely disappointing".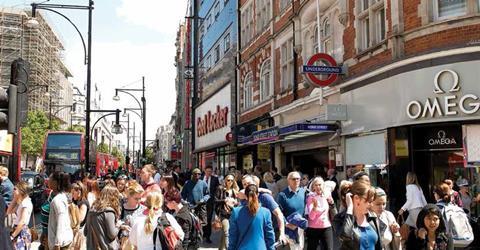 Shops on Bond Street, Oxford Street and Regent Street are among thousands of businesses awaiting details of their new rate bills, due to be published on Friday.
The new rates will kick in from next April and be based on rents as of April 2015, instead of 2008. But the move is expected to disproportionately impact London, where rents have recovered faster than the rest of the country.
The New West End Company, which represents around 600 retailers, claims an 80% surge in rates would add around £125m to the annual fees that retailers on Bond, Oxford and Regent Streets pay.
New West End Co slams proposals
Ahead of the publication of the new tariffs, the Government has launched a consultation on allowing businessess a transitional period.
The measures would see bills capped at a certain percentage increase to allow firms to adjust to the hikes.
But the New West End Company, which represents around 600 retailers, has slamed the proposals and warned of job losses.
"The options being put forward for transitional relief are extremely disappointing and will be catastrophic for West End businesses, which will now have minimal time to adjust to the disproportionate business rate rises of up to 80%," a spokeman said.
"The suggested options will not lighten the burden and retailer profits will be hit by up to 25% in a fragile post-Brexit [vote] economy, leading to reduced investment and job losses around the UK.
"We maintain that transitional relief should see any rate rise capped at 12.5%, which would significantly ease the impact of the rise for businesses during an uncertain time."
Questioning flagship value
The group wants the Government to allow the West End to retain a "small fraction" of the £1.8bn business rates raised every year from the central London area.
Chief executive Jace Tyrrell added: "During this uncertain time, the Government needs to be supporting the growth of prosperous sectors of our economy such as London's West End."
Deloitte head of business rates James Thompson said: "We believe retailers in Regent Street and other prime London retail streets need to be prepared for a huge increase in their rent and rates costs over the next few years.
"This may lead many to question the value of a flagship store there."