The improvement body for London's West End has set out plans to revitalise the famous shopping destination by attracting more shoppers, reducing traffic and rejuvenating the east end of Oxford Street.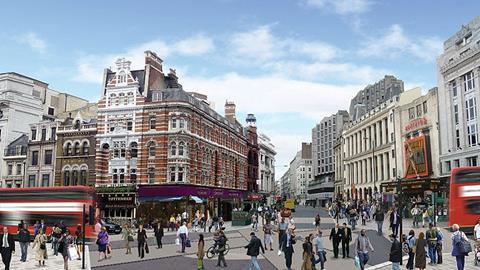 The New West End Company this week unveiled its 2020 Vision to drive the area forward as an "unparalleled destination for retail tourism, investment and leisure", and aims to increase annual shopper spend 66% to £10bn by 2020, as well as attract a further 50 million visitors annually.
Plans include more diagonal crossings, mirroring the one unveiled at Oxford Circus in November, including one at Tottenham Court Road.
The New West End Company, which was formed 10 years ago, said the east end of Oxford Street needed a "major reshaping and regeneration" and that this is a "major economic and planning priority".
Under the plans the principle shopping streets - Bond Street, Regent Street and Oxford Street - will be transformed into a "destination for shoppers not a thoroughfare chocked with traffic". New West End Company wants to reduce traffic by 40% between 10am and 4pm by imposing new restrictions.
It also wants to provide 50% more space for pedestrians by 2020, which it said could include a new mode of transport, a dedicated bus route or widening of the pavements.
It will focus on continuing to attract international retailers to open European flagship stores in the West End, aiming to secure an additional 21 by 2012.
The upmarket streets of Bond Street, Mount Street, Jermyn Street and Savile Row were this month grouped into a new district called the Luxury Quarter. Plans for it include a makeover of Bond Street that will include street fashion shows.
New West End Company chairman Dame Judith Mayhew Jonas said it is imperative that the agency sustains its current momentum, "not just in key public realm investment projects but across the board in all our initiatives and lobbying".