Riots hit retailers across the UK last night while London remained largely calm.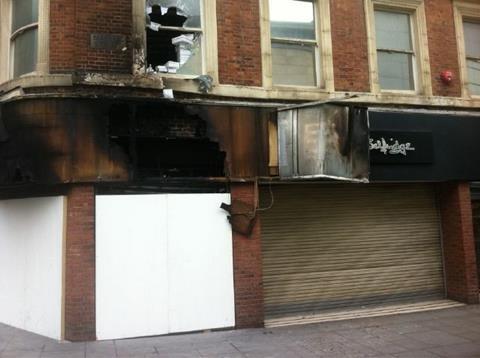 Shops in Manchester, Birmingham and Liverpool were attacked and looted and other smaller incidents happened in locations including Nottingham, Bristol, Milton Keynes and Cardiff.
Most shops in London shut early yesterday on police advice with many boarding up their windows for fear of attacks.
In Manchester, a Miss Selfridge store was set on fire while Liam Gallagher's Pretty Green shop was looted. Elsewhere, the Diesel store was looted and Swarovski shop raided by masked men.
A brick was thrown through department store Kendals' window and the iconic Afflecks and other independent shops in the northern quarter were also targeted.
The Arndale shopping centre was targeted, with Foot Asylum looted. Many of the stores had already shut up shop though and taken stock off the shop floor.
Dawson's music shop and other mobile phone, jewellery and sports shops were also stripped bare, while supermarkets had alcohol stolen.
At nearby Salford, shops at Salford Shopping City closed at 2pm ahead of trouble. Stores including Bargain Booze were looted.
In Birmingham, the first trouble started with rioters hitting upmarket Emporio Armani. Elsewhere, Foot Locker, Adidas, JD and Primark were attacked. The Bullring shopping centre closed at 5pm on the advice of the police.
At nearby Wolverhampton, rioters left a trail of destruction in the city centre with many shops having their windows smashed.
In Liverpool, riots erupted and stores including a Tesco Express were attacked. An Asda was also damaged in the Smithdown Road area.
In Bristol, looters targeted jewellery shops, while the Stokes Croft Tesco Express shop - the scene of previous riots over its controversial opening - had its windows smashed again. In Cardiff a JD was hit.
Retailers hit by third night of rioting
1

2

3

Currently reading

Video: Retailers hit as riots spread across the UK

4

5

6

7

8

9