As much as £200m may be piled on to the cost of consumer goods to the UK as a result of the growing trade wars with the US.
US products including cranberries, bourbon whiskey and jeans will be impacted by an EU fightback against new US tariffs on steel and aluminium from the European trade bloc.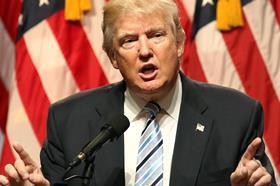 The first wave of EU duties are calculated to cost UK retail £85m per year as they become effective immediately.
Additional duty rates for products in the first tranche of items affected are 25% and will hit goods ranging from peanut butter to ladders.
The sanctions have arisen from a trade dispute originally about state support in Chinese overcapacity in steel and aluminium.
Retail Economics chief executive Richard Lim said: "The cost of sourcing consumer goods from the US could rise as much as £200m for UK retailers. The first wave of EU duties will cost UK retail £85m a year and will come into force immediately.
"It will become critical to pay close attention to this dispute because its future course is unpredictable, fast moving and could quickly escalate to engulf other, seemingly unrelated areas of trade.
"This has come at a time when retailers margins are already under intense pressure from past rises in sourcing costs and escalating operating costs."
The dispute looks likely to escalate further. US President Donald Trump has warned of further escalation and has separately opened up new fronts by imposing 25% duties on $50bn of trade from China and launching an investigation into EU car sales in the US.
Lim said if the investigation leads to new duties on EU autos exports there will be further "retaliation" from the EU and "consumer products are almost certain again to be in the line of fire".