The big topic at this year's NRF convention was the polarisation of global retail. Joanna Perry reviews the key themes, while on page 24, Rebecca Thomson examines the top technological innovations on show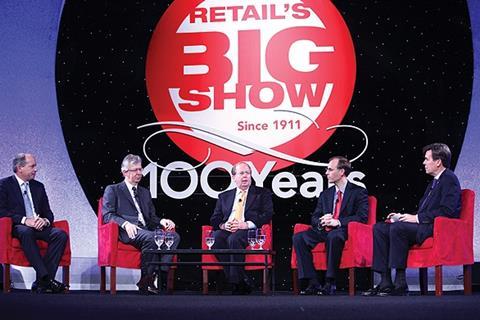 The snowfall in New York did not deter US or international retailers from making the journey to the Big Apple. But while European visitors bought with them tales of weather woes, those trading on other continents arrived with a much sunnier disposition.
Of course, the global retail picture is more complex than that. But if the recession began to widen the gap between the best retailers and the rest in developed economies, then the recovery has only increased the polarisation retailers trading internationally face.
Last year, US retailers were told they would have to start looking outside the comfort zone of domestic organic growth to counter the dynamics of the changing global economy. So the convention did not just draw international retailers looking for US inspiration, though there were many of those, but also US retailers looking for opportunities in higher growth economies.
In January 2010, US attendees were also left in no doubt that their future prosperity was dependent on the creation of new roles to replace the near 8 million that were lost in the US during the recession.
A year later, both those messages are still being communicated; but the economic data shows US retailers must be increasingly careful what they bet their investment dollars on.
The home front
US newsstands said it all, with the cover story of the latest issue of Time magazine explaining how the recovery of the US jobs market has been patchy.
An unemployment rate of nearly 10% is bad enough, but for those who did not graduate from high school, it is 15.7%, and for Hispanic and black adults it is 13.2% and 16% respectively.
US retailers say this has exacerbated the trend for mid-market and luxury retailers to recover more quickly than their mass-market peers.
Retail Brand Alliance president and chief executive Claudio Del Vecchio, whose company owns Brooks Brothers, said his more affluent customers have bounced back. "We have had a pretty good season, but we don't believe this is normal for the whole industry."
Collective Brands chairman, chief executive and president Matthew Rubel, who has fascias exposed to different segments of the market, mirrored that view: "Our premium brands had a spectacular season. Our mass business outside the US was terrific. Inside the US, we see challenges that are geographic and demographic. Unemployment rates in some ethnic groups are still in double digits."
Deloitte Research global director Ira Kalish said 2010 was a disappointment in the US, because the retail industry was talking about imminent increases in spending a year ago, though there is now more confidence among retailers.
Moody's chief economist Mark Zandi said retail sales growth over the Christmas period was running at about 5% to 6%, but it is crucial that momentum continues and benefits those it has not yet reached.
"We need to make sure that the recovery grows into a self-sustaining expansion," said Zandi. Unemployment has stubbornly remained above 9% in the US for 20 months, and many more jobs will need to be created for those groups that have been disproportionately affected by unemployment to bring this headline figure down.
The new normal
If the recession created new norms for consumer behaviour - a flight to value and reduction in customer loyalty being two widely cited at NRF - then the recovery is creating new norms for US retailers.
Disney Store senior vice-president for global store operations Steve Finney said it will never again try to grow store numbers to what they once were - 500 in the US alone.
Instead, Disney is focusing on increasing conversion rates in existing stores through the roll-out of its innovative Imagination format, and new technology such as mobile point of sale. Traffic in upgraded stores is up 20%, and margins are 25% higher than the rest.
Mobile had everyone talking. Traditionally, the US has been a much bigger market for kiosks than the UK. But Macys.com chairman and chief executive Peter Sachse admitted retailers
now need to give customers internet connectivity on their own devices in stores. "If you don't enable your stores then the millennials won't walk into them," he said.
US retailers are also getting to grips with the idea that emerging economies are not just somewhere they import from, but also export to. Rubel highlighted this, lobbying against protectionism: "Free trade needs to be understood. You have to take away tariffs here, so tariffs are taken away there."
Conversely, they are more interested in importing retail ideas, not just exporting them. Food Lion is part of the Delhaize Group. Its president, Cathy Green, said its international ownership has been particularly useful for new store development ideas. Similarly, Disney's Imagination store concept was created by an international team of staff.
Finally, Kalish said that US retailers are talking much more seriously about international expansion. Collective Brands was one US retailer that admitted to this - Rubel said it is investigating the Brazilian market.
China or bust?
For the past few years at NRF, China has been the emerging market everyone has been talking about. And that was still the case in 2011. However, there is now more of an acceptance that it creates a risk factor for international retailers as well as an opportunity.
Kingfisher group chief executive Ian Cheshire referred to the "vibrant and volatile" BRIC economies. He raised concerns about China's inflation rate - something that was echoed by others.
The rising costs of food and energy have wider ramifications for retailers in other countries, even if they do not directly trade with China. Kalish said 50 years of declining food prices in the Western world could come to an end.
The Chinese property price bubble also has wider ramifications. Cheshire explained that 60 million new homes in China lie empty, the Chinese having bought them as one of the few assets they are able to purchase.
Kalish said if the property bubble in China was to burst, it would not impact on the rest of the world in the same way as with the sub-prime crisis in the US. But it could still do some damage.
Chinese banks are exposed to property prices, but they are mostly government controlled. "There won't be a financial meltdown. The real risk is what it would do to consumer spending [in China]," Kalish warned.
Zandi added that China's prosperity has a knock-on effect on other emerging economies, especially in Latin America, which are very dependent upon China as an export market. So US retailers need to plan their international expansion with care.
But this focus on China's economy was perhaps a distraction from the US economic issue that few were prepared to acknowledge. While European retailers are facing up to market conditions in economies where public debt-reduction is an imperative, Kalish says the US still has this process to come.
Unless enough jobs can be recreated, and growth achieved, then the payback of the US fiscal stimulus a few years down the line could result in US retailers feeling the pain much closer to home.
Retail performance: US versus UK
In the past decade or so, retail performance and trends in the US have often been an indicator of what's to come in the UK. But this period of alignment could be over for the near future.
The UK picture is much less positive than the US. Deloitte strategic adviser Richard Hyman said consumer spending could be down and costs up this year in the UK. In comparison, the US market expects to benefit from the continued fiscal stimulus, and inflation worries are much less.
He explained that like the US, the UK market has enjoyed 20 fantastic years; on top of which, UK retailers have enjoyed the luxury of relatively higher profit margins than their US peers. But he said this must come to an end now.
Particularly for the UK, 15 years of relentless price deflation in fashion will never return, and this could be the end of a volume-driven market. "Lots of retail management teams in clothing only know volume. They have no experience of increasing prices year on year."
Hyman said retail will be all about growth through increasing market share. "As growth will be slower, the weak retailers will be much more penalised than they were during the golden 20-year period… This will make the difference between the strong and the weak much more apparent in performance terms."
Out of Africa
Deloitte Research global director Ira Kalish believes that Africa is finally starting to interest organised retail. Investment will spread, with South Africa as the base; the Walmart acquisition of South Africa's Massmart - which also operates in several other southern African countries - is indicative of this.
Kantar Retail EMEA retail insights director Bryan Roberts believes caution must be exercised when weighing up the opportunity. "One should view Africa as a selection of cities rather than countries. We certainly expect Walmart to pursue further growth in those cities where Massmart has a presence.
"Longer term, it would be no great surprise to see Walmart active in north African markets such as Egypt, Morocco and Tunisia, markets so far dominated by local players and retailers from France."
He continues: "By the same token, now Walmart will be testing the water in sub-Saharan Africa, it doesn't require a huge leap of imagination to see a couple of the usual suspects considering a similar acquisition."
One of Roberts' acquisition target tips, South African-based Pick n Pay, was present at the convention.
Transformation director Suzanne Ackerman-Berman, a member of Pick n Pay's founding family, said organised retail for the elites is already well-established; the growth opportunity on her continent comes from creating supermarkets that will appeal to lower middle-income black consumers.
Her opinion is black consumers in the more developed African economies want similar retail standards as white consumers - something that has only been recognised in the past few years - though they also want products tailored to their needs.
"We are listening to what our customers want. Before that, we gave them a second-grade supermarket. We thought that they were worried about price," she explained, adding that actually they want to shop in clean modern stores.
Two examples highlight how the company is attempting to appeal to the poorer, predominantly black consumers in many of the locations where Pick n Pay is opening stores with black franchisees, who have worked their way up through its training structure.
Though they have less money to spend on luxuries, black South Africans are prepared to spend on their hair. Lower income South African consumers spend relatively more money on haircare products than the predominantly white most affluent - twice as much in fact. But South African supermarkets traditionally did not stock products suited to black hair.
Similarly, counter-intuitively, Ackerman-Berman said lower income consumers want pre-preparedconvenience food products because of the long hours they work and spend commuting: "You would think that these people would want to cook for themselves, but they don't have time."
She advised retailers attempting to appeal to lower middle-income groups when entering markets in the region to "look at the science of what they spend their money on".