Mary Portas' new series, Secret Shopper, has incurred the wrath of retailers. But the 'queen of shops' remains defiant.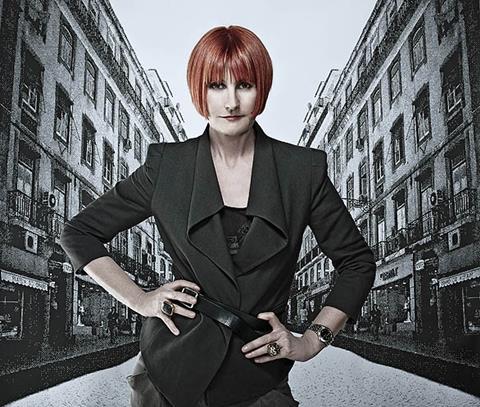 The top 10 scoring stores
Waterstone's
Waitrose
Monsoon Accessorize
John Lewis
Focus DIY
Based on highest average rankings out of five on Portas' Secret Shopper site
"They're making a killing but it's you that's being shortchanged."
That was how Mary Portas introduced the first episode of her television series Secret Shopper. It's the programme where the self-styled 'queen of shops' has switched sides and instead of helping retailers, has launched an all out assault on the service she describes as "appalling".
But her crusade has caused uproar among some of the retailers featured, and even among some of those who haven't, who say it has tarnished the reputation of the industry with the shoppers it serves.
Portas stands accused of creating sensationalist television. Specific criticisms include that she unfairly singles out store staff, tars all retailers with the same brush and is selective in choosing what footage is used.
"I had one of my guys who was featured in the programme ring me up the next day and offer to fall on his sword," says the chief executive of one retailer that appeared in the second programme of the series.
"Anyone who thinks this is about knocking my industry is bonkers"

Mary Portas
The resignation was not accepted, but the chief executive was angry at what he perceived as Portas actively hunting out bad service and ignoring anything positive.
The tone of the programme is, by Portas' own admission, "shouty". Furniture stores were accused of looking like prisons, while a clip filmed on a hidden camera of a Primark store worker trying to help with an enquiry was voiced over by Portas saying "he doesn't have a clue".
Primark, New Look, H&M, Harveys, Furniture Village and ScS were among those singled out by the programme for undercover investigation. The programmes also worked in co-operation with less well-known retailers, such as Fonehouse, Pilot and CSL, to help them improve their service standards.
It's proved highly controversial, but Portas remains defiant. She tells Retail Week that while "anyone who thinks this is about knocking my industry is bonkers", she is nevertheless "ashamed" of service standards in UK retail.
And with her secret shopper website attracting more than 12,000 shoppers to give store reviews in three weeks since the series started, the cult of Portas appears to be gaining traction all the time. Which is bad news for those she has in her sights.
Queen of the castle
Sitting in the trendy London office of her PR consultancy Yellow Door with her black Schnoodle named Walter pottering around, it's a very different Mary Portas to the one who shouts at the camera and leads mobs of protesting shoppers into stores.
"I do think that generally service in this country is appalling"

Mary Portas
But while she seems genuinely hurt that some retailers feel she has set out to entrap them with her undercover camera, she sticks firmly to her line about the standards of service. "I do think that generally service in this country is appalling. I was embarrassed with the film crew that this was my business," she maintains.
The programme hunts down poor service in shops and takes no prisoners when it comes to revealing failure. Although the faces of the store staff featured are blurred, it's easy for anyone inside the businesses involved to tell who they are. The retailers who were filmed undercover for the programme aren't happy.
Retail Week has seen correspondence between one well-known retailer and Optomen Television, which makes the programme. In it, the retailer complains about being given just 24-hours' notice to respond to the programme's allegations, despite the filming being carried out six weeks beforehand. It accused the programme of being created with the aim of "reaffirming pre-conceived generalisations about the sector".
Retailers are also unhappy at the link Portas repeatedly makes between profitability and service. On her programme about fashion she says, before going into Primark: "You'd expect the service to be good, as last year's profits were £341m."
A director of one fashion retailer featured in the programme - not Primark - says the constant repetition of the relationship between profits and service is unfair and misleading. "Any retailer that sacrifices profit for service would be crazy. I don't know anyone who would do that," he argues.
Portas accepts that point, but refutes suggestions that she judges all retailers by the standards of the luxury stores where she spent much of her retail career.
"I don't expect the standard of service I get in Browns or Matches, but what I do expect is decent service," she argues. "I didn't ask for fashion advice or knowledge of the product - I wanted acknowledgement, not having to queue for 10 or 15 minutes, and product which wasn't on the floor."
She is particularly scathing about Primark, which featured heavily in the programme, which she accuses of being "shameful that it represents retail today". She says: "Best practice in service is not at the heart of Primark.
Primark is understood to be unhappy about the programme but declined to comment either for the programme or to Retail Week.
She says that operating at the value end of the market is no reason why service shouldn't be an important part of the equation. "I was at Topshop in the 1980s working for Ralph Halpern and great service was at the heart of what we did - Topshop has that today too," she says. In today's market, she cites Wilkinson here and Old Navy in the US as examples of value businesses that get it right.
Portas is even more scathing about furniture retailers than clothing specialists and says she didn't even get round to covering some of the areas she wanted to in the programme. "They got off extremely lightly. There was loads of stuff the Channel 4 legal department wouldn't let me show," she maintains.
Some retailers not featured in the series feel it lets the industry down by not featuring any examples of good service. "It gives shoppers the impression that all retailers are out to get them, that we all have a culture of not caring about the customer, which is nonsense," says one.
Portas counters that there are many retailers she admires - the usual suspects such as John Lewis, Waitrose and Selfridges - but that good service does not make good television.
Those retailers that volunteered for Portas' help are more enthusiastic. Unsurprisingly, none of the big boys wanted to take part, so the focus ended up being on smaller but growing businesses like 50-store mobile phone specialist Fonehouse.
"For us the Mary Portas experience was good, but it was difficult to do because you don't know the outcome of the filming," says managing director Clive Bayley. "Mary Portas portrayed us accurately though. In terms of customer service she picked the worst, but that's the way it goes. We took criticism, but the outcome was good."
There were benefits too. Fonehouse, which operates mainly through franchises, had 400 enquiries from potential franchisees the day after the programme aired.
Portas also revamped the design of a Fonehouse store. "I listened to Mary and didn't get confrontational even if I didn't always agree with what she said," Bayley adds. "We were ready for change - other retailers might get prickly in the face of criticism."
Bayley benefited from being in the third programme of the four-part series. Portas concedes that the programme's hostility towards stores has been toned down since the first episode on fashion, when she led baying mobs of disgruntled shoppers into stores bearing placards to make a point about customer service, and admits that Channel 4's approach has been to grab the headlines. "One wants a headline and the headline Channel 4 wanted was 'I'm there for you, the shopper'. What I don't like having to do is the shoutiness."
She claims that by the fourth episode on estate agents - which was due to be screened on Wednesday, after Retail Week had gone to press - she had insisted on changes to the tone so that it was more about working in partnership with store employees rather than showing them up. But even for that episode, the production company was advertising on the web and Twitter for people with a grudge to take part in a "payback stunt".
Portas says there is a process of constant discussion with the production company about the tone of the programmes, but that she is much happier with that of the later episodes.
"With the estate agents I was more involved in how you do the turnaround and less in campaigning, and that's what I get a kick out of," she says. "But I'm not going to move from the message - it comes from my heart. If I make a few enemies along the way I'm going to have to take that."
She also admits that the nature of television filming means much of the process of improving the stores gets lost: "When one does TV you film for nine days to get a 48-minute programme and to get the message through there has to be a big headline."
Despite having filmed undercover in stores, Portas is adamant that she does not humiliate shop staff. "This isn't about them, it's about showing them as a symptom. The girls at Pilot were being neglected," she insists.
But she does believe that shop staff must take their share of responsibility for the problem. "70% comes from the top but they are the people on that shopfloor. One day [at the Pilot store featured] two of the girls just didn't turn up."
Conflict of interest
One criticism levelled at Portas is that she faces a conflict with her 'day job' at Yellow Door, which counts retailers such as Clarks and Republic among its clients, none of whom have featured in the programme.
She vigorously refutes that idea, countering that her outspoken criticism of retailers probably counts against her. "I've probably written myself out of a lot of business over the years," she says.
Ultimately, Portas says if retailers do not get service right, shoppers will have no reason not to take their custom online. She says "socialisation and specialness" will be key to future success of bricks-and- mortar stores.
Now her site is up and running, Portas plans to open it up so that retailers can respond to comments on it from customers. Her business partner Peter Cross believes it has the potential to become retail's equivalent of Tripadvisor.
That creates all sorts of problems - for example, how do you stop store managers giving good reviews to their own stores - but Cross says two moderators are already working on the site, and it looks set to grow further.
Secret Shopper isn't the only Channel 4 programme putting retailers in the spotlight. The new programme The People's Supermarket, which made its debut last Sunday, took numerous swipes at Sainsbury's and Tesco in particular as it followed the launch of a supermarket co-op in central London.
Portas would like to tackle the grocery market too, and, although she has yet to commit to a second series of Secret Shopper other TV projects are in the pipeline. Her approach is not
to everyone's taste, and she'll certainly be off a few retailers' Christmas card lists this year.
But, love her or loathe her, she is retail box office and has put the issue of service right back on the agenda of the shopping public. It's not going away any time soon.