China is now the second biggest economy in the world. Rebecca Thomson looks at the numbers and considers how retailers can reap rewards from this global superpower.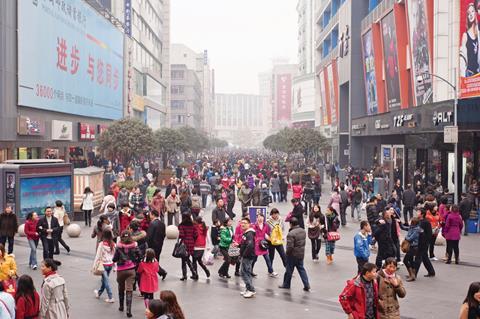 Summary of China's 12th five-year plan
The plan has a strong focus on rebalancing the economy, making sure that consumption is increased and dependency on exports is reduced
The government wants to reduce inequality, increase wages and trying to ensure the spoils of economic success are enjoyed by more people
The plan is for the economy to account for 15% of the world economy by 2020, compared with its 3% share now
There are a handful of key strategic industries highlighted in the five-year plan as being of particular importance, including information technology and highly skilled manufacturing
There is also a focus on the environment, with plans to become a low carbon economy and reduce the country's negative impact on its natural resources
It's been at the heart of retailers' sourcing operations for years, but if economic growth projections are to be believed, China will soon become far more than a place from which to import their wares. Ignore it at your peril.
Earlier this year, the Chinese government released its latest five-year plan - its 12th - which outlines the country's economic priorities. The figures are staggering. This enormous corner of Asia already boasts the second biggest economy in the world. Its gross domestic product (GDP), now worth an estimated $5.8trn (£3.5trn), overtook Japan's $5.4trn (£3.3trn), at the end of 2010. Its middle class is now estimated at 300 million and already approaching the size of the entire population of the US.
If everything goes to plan domestic spending will increase, wages will rise and China will account for 15% of the global economy by 2020, up from 3% at present.
It still has some way to go before it reaches the heady heights of the US's $14trn (£8.5trn) GDP, but the growth trend is clear. The big questions for UK retailers are how they make this enormous market work for them, and how they keep up with the pace of change China has become associated with.
As Kingfisher chief executive Ian Cheshire says: "The big change is the massive increase in the middle class, which is unlike anything we've seen before. China is becoming more about consumption than exports."
Planning ahead
China wants to rebalance the economy and become less dependent on exports and more dependent on domestic consumption, and it wants the spoils of its economic success to be enjoyed by a higher proportion of the Chinese population.
If it were all about sheer scale, those UK retailers that tap successfully into the Chinese market would be laughing all the way to the bank. But this is a country that is becoming both ever more sophisticated and ever more difficult in which to succeed.
"The big change is the massive increase in the middle class, which is unlike anything we've seen before"

Ian Cheshire, Kingfisher
While China's own retail sector is growing quickly, it's not as strategically important as some others such as the IT industry. Its retail offer has remained fragmented and so far many domestic brands have stayed small or medium sized because local entrepreneurs often face as many barriers as foreign retailers do when wanting to expand into China's other provinces. With the provinces operating as separate areas, networks of contacts only stretch as far as a province boundary - those with experience of the market say the country should be approached not as a single entity but as more of a federation of city states.
However, as the Chinese retail market matures, competition from domestic retailers will get fiercer. "Never underestimate how quickly the Chinese learn," says Guy Salter, deputy chairman at Walpole, an industry body for the UK luxury sector. They are quickly getting the hang of mass market retailing, and foreign retailers will need to stand out. For some, this means using their brand to make them distinguishable in a crowd.
Any retailer with something different to offer will have a big advantage. Apple, for instance, has a higher sales per square foot in its Shanghai store than it does anywhere else in the world. Gieves & Hawkes deputy chairman Mark Henderson said at a Walpole summit on luxury retailing in China this month that the menswear chain's most profitable store in the world is Chinese.
Manufactured success
Kingfisher opened its first B&Q store in China in Shanghai in 1999, and now has 40 across the country. As it works to establish a stronger presence, Cheshire says it is looking at manufacturing its own range of products for the Chinese market. "We've found the market is driven by manufactured brands, not retailers. Our challenge is to establish our own-label operation, which is what we've started to do."
Retailers that can't differentiate themselves through product must do so via price, which is difficult when competing against cheap Chinese stores for strongly price-conscious Chinese consumers. Or, they must simply be the best merchants around and tailor their offer carefully to the local population.
For now, it's still possible to get a foothold - and as the middle class grows further, more opportunities will develop. But China is one of the hardest countries in the world to do business in.
There have certainly been some high-profile exits, such as US electronics retailer Best Buy, which announced its retreat in March this year. Success in China is certainly never taken for granted, even by the biggest names.
Consumer tastes are difficult to predict, and those with experience say one thing - do it with a partner. Henderson said a large part of Gieves & Hawkes' success in China was down to its partner. "Having a fantastic partner was essential, but there are very few of them."
Local expertise is crucial but finding the right partner is tough. There's no little black book of the best contacts, and Salter advises speaking to plenty of other retailers and brands on the ground that have worked with specific people.
Some of the best partners in the Chinese market will be found in Hong Kong and Taiwan, he says. "Those are still the repositories of talent and entrepreneurial sophistication."
Rise to power
China's evolution should certainly be considered positive, but its rising power does hold a few challenges for retailers as well. The increasing cost of higher wages has been much discussed, and it's an issue that will need tackling. But Cheshire says this is a natural evolution of a developing economy and manufacturing will steadily move elsewhere. "Some of the low-cost production will simply migrate to other countries around the world. It's just part of the shift China is going through."
Climbing wages are just one hurdle to jump. There are plenty of other challenges that are similar to other markets, such as the need to keep up with fast-changing consumer trends, but there are some unique to the country.
The housing market in particular is an issue for anyone whose business is exposed to it - B&Q has had its fair share of issues at the hands of speculative property investors. Cheshire says there are about 60 million empty apartments across the country bought by investors who think property will bring a better return on investment than the stock market. The long-term trend, he says, is that people will want to own their own homes, but in the meantime he describes the property market as a "really big challenge" for any retailer linked to it.
But despite the issues, retailers continue to persist with the market because of the potential pot of gold it offers. Chinese-driven growth isn't just related to opening stores in the country - one other opportunity it has presented is the spending power of the Chinese tourist.
Chinese tourists have become key consumers for many UK retail brands, but many think they've not reached their potential yet. London-based retailers have expressed their frustration before over the struggle wealthy Chinese people sometimes have to get into the UK - the reluctance of the UK government to release more visas puts too many off, they say. Harrods managing director Michael Ward said at the Walpole summit that four years ago Chinese consumers produced the equivalent of one third of the business US customers brought into the department store. Now, Chinese spending is four times the size of US spend, with Ward reporting three separate sales of wine worth £20,000 in just one week in May. But the astronomical growth is down to an increased average transactional value, he says, with an expansion in numbers curtailed by the UK's visa system.
"Having a fantastic partner was essential, but there are very few of them"

Mark Henderson, Gieves & Hawkes
And once Chinese tourists do get here, they are demanding and expect to be treated well. Gieves & Hawkes has benefited from tourist spending, as well as having 77 stores in China itself since it entered the market in 1998. Henderson says Chinese spending worldwide will keep rocketing,
but that British companies need to focus on service if they're to take full advantage of the trend. Henderson believes UK and European retailers often don't give Chinese tourists the welcome they expect. "We have been very smug about the fact that we make luxury products but if we can't welcome people, we are doing ourselves a disservice."
And for some retailers, the Chinese market is still a work in progress that will need a little more maturity before it becomes suitable. Harvey Nichols chief executive Joseph Wan says that despite opening a second store in Hong Kong in October this year, the middle class isn't yet big enough or rich enough to make a mainland China store viable.
"For a multi-brand retailer, the margins are much lower than in luxury retailing and the space you need is bigger. In financial terms it's not as easy for us to make it work unless there is a significant volume of business." Until the middle class expands further, he says, Harvey Nichols won't work in the country - but he adds that in two to three years' time this is likely to be a different story.
"It's not as easy for multi-brand retailers to make it work unless there is a significant volume of business"

Joseph Wan, Harvey Nichols
Onwards and upwards
The trends outlined in China's 12th five-year plan will be cemented quickly as the Chinese economic juggernaut moves forward, and the speed of this change creates another challenge for retailers. While they prefer to employ local people, there's a real dearth of talented senior staff to help them consolidate their position in the market in the coming crucial years.
"You've got a fairly small pool of established retailers," says Cheshire, "and there's no long history of retail talent. There's now a lot of wage inflation for good people at the top levels and it's expensive to employ them." Salter says there's a "fascinating opportunity" for senior retailers to work in China. He says: "I don't think the penny has dropped about how many opportunities there are for talented people at every level in retail in China at the moment."
Whichever sector retailers operate in, China represents both the biggest opportunity but perhaps also the biggest international challenge of the next few years. Success will depend on having the flexibility needed to respond quickly to both the government's and consumers' changing whims. And the ability to evolve alongside the world's next superpower will, no doubt, secure a retailer's standing as a superpower within the retail world.