Gap, Topshop, House of Fraser and John Lewis are among the first retailers to commit to sprucing up the West End in time for the Olympics.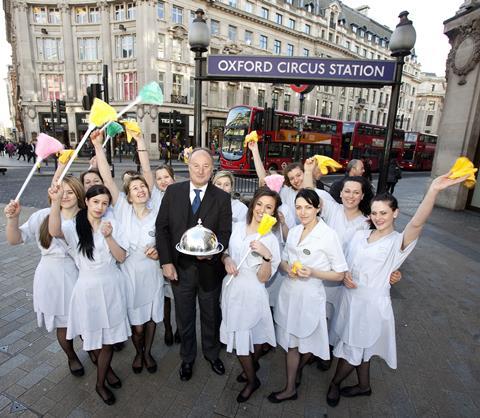 Butlers and chambermaids invaded the shopping destination this morning to launch New West End Company's May Makeover Month.
The organisation which represents 600 retailers across Bond Street, Oxford Street and Regent Street, urged retailers to help in a big clean-up of the area on May 30 in a 60 minute Make Challenge.
Retailers have been set the challenge to donate 1,000 staff to put the finishing touches to a month long spring clean which will include a deep-clean and resurface of Oxford Street's pavements, removing barriers from the Crossrail site and planting trees as well as jet washing street furnishing and cleaning and polishing shop window glass and store fronts.
New West End Company chief executive Richard Dickson said: "Cleanliness is important to our customers, so the campaign is about encouraging hoteliers and retailers to help clean up for a sparling Jubilee and Olympic Games. We need to think about welcoming these visitors to the capital."
The organisation's Red Cap ambassadors will help police cleanliness in the area, on the lookout anyone littering, while they will hand out £20 shopping vouchers to those shoppers correctly disposing of their rubbish.
Dickinson added slashing the number of cigarette butts on the streets will be key.