A new report draws on exclusive Retail Week analyst data to rank the country's most successful ecommerce retailers by FY2022 predicted online sales. Discover who they are, how they're winning and the strategies to follow their lead
Tesco, M&S, Amazon, and Harrods have been identified among the UK's 30 biggest ecommerce retailers in a new report based on exclusive FY2022 forecast data from Retail Week's analysts.
The UK's Top 30 Ecommerce Retailers, produced in association with Ecommpay, Marigold and Zendesk, marks the first time Retail Week has published such data and provides eye-opening insights into the retailers fighting against the tide to make online work for them. It also features a retrospective of online sales for FY2021 and sales predictions for FY2023 and FY2024.
UK ecommerce sales are now down to their lowest peak since January 2021, accounting for just 26.6% of total retail sales in January 2023 compared with a 37.8% peak two years ago, Office for National Statistics data shows.
Against this backdrop, retail players must work harder to drive digital spend.
As a result, the report takes a deep dive into the online investments, staffing priorities and broader strategies of the top 30 ecommerce retailers to help businesses truly understand what's working and where the industry is heading.
As retailers continue to traverse supply chain issues, the report also reveals five major solutions the top 30 are implementing to improve their online fulfilment and returns processes.
So who comes out on top and what can you learn from them? Below we've profiled two online behemoths from the ranking. View the full top 30 here.
Who ranks top?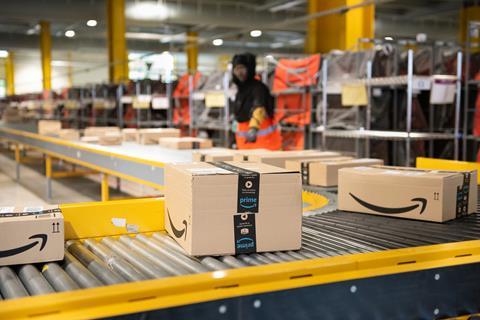 Amazon – 1
FY 2022 forecast UK online sales: £24.8bn (+7% on 2021)

FY 2021 total UK online sales: £23.2bn (+21% on 2020)
It is no surprise to see the undisputed ecommerce leader Amazon at the top of our ranking, despite its recent challenges.
The pandemic brought stratospheric growth for Amazon, with its UK 2021 sales totalling an extraordinary £23.2bn.
We expect it to grow by 7% this year to £24.8bn in FY2022, followed by 11% in 2023 and 13% in 2024.
The pandemic-induced shift online led to UK growth of 51% in 2020 and 20.5% in 2021. As a result, the business invested heavily in increasing its distribution network and capacity to support online demand.
However, shoppers have returned to stores more keenly than expected and Amazon has been left with high inventory and excess space.
This has led to cost-cutting and reduced capital expenditure – in January 2022, it announced 18,000 job cuts globally, including 1,200 roles at risk in the UK.
Nonetheless, Amazon's obsessive focus on the customer and decades of innovation mean it is well positioned to weather the current storm and, even with a slightly tightened belt, ecommerce innovation will proceed.
The business is also quietly testing a new Prime Lite Service in India as of January 2023 – Lite being a cheaper membership alternative to Prime, including free two-day instead of one-day shipping, and lacking premium services such as Prime Gaming. The service is a bid to offer customers a lower-cost option and reduce the number of Prime cancellations and, if successful, is likely to roll out to other markets.
In a major shift for the business, in February Amazon announced an overhaul of its European product-sourcing model. It will now focus on sourcing products directly from brands, rather than wholesalers, in a move intended to help control its cost base and keep prices low for customers.
Warehouse technology advancements are on the agenda, too, with new robotics and AI showcased in November 2022 that pick and sort orders – something only humans could previously do.
While this moment of difficulty is unusual for Amazon, it remains the brand to look to for future online performance.
Tesco – 3
FY2022 forecast UK online sales: £5.6bn (-5% on 2021)

FY2021 total UK online sales: £5.9bn (-7% on 2020)
The UK's third largest online retailer is Tesco, which is shrinking its online sales gap.
The grocer's online sales can be credited to its adaptability and agility, driven by its commitment to logistics investment.
For instance, it is well known that Tesco's ability to scale up quickly allowed it to double to a peak of 1.5 million orders per week during the pandemic, a volume that has since fallen and stayed steady at 1.2 million.
But it hasn't rested on its laurels since then. It came second only to Amazon when Retail Week asked 1,000 shoppers unprompted to name the retailer with the best customer experience, in exclusive research published in January 2023.
Its Clubcard loyalty scheme continues to be a central part of its strategy, as it has been for years, and today the card's digitisation is a key priority. It reported in its preliminary results in April 2022 that it now has 9 million digital Clubcard app users.
It continues to evolve the Clubcard user experience; an in-app personalised digital summary of customers' experience and the money they have saved shopping with Tesco had been trialled with 1 million customers as of April 2022.
Tesco also focuses heavily on behind-the-scenes efficiency and now has six urban fulfilment centres (UFCs) across the UK. The UFCs use excess space in large stores to fulfil online orders using automated technology and the grocer says pick rates are around four times higher than store-based picking.
While it plans to open more UFCs in 2023, it has dropped its previous target of 25 in favour of a test-and-learn approach. This year also sees Tesco making plans to roll out its one-hour Whoosh on-demand rapid delivery service to 600 stores by the end of the year.
Who are the other retailers celebrated in the ranking – and is your business among them? Access your free copy of The UK's Top 30 Ecommerce Retailers to find out.
You will also discover:
Digital innovations the top 30 are investing in to maintain online market share
Ones to watch – a secondary ranking of newer retailers, heritage brands and surprise names with online sales on the ascent such as Sosandar, Loaf and Fenwick
What it now takes to build a winning digital dream team
2023's top five solutions to navigate ecommerce fulfilment and returns