Asda is testing technology that it hopes will shave crucial seconds off time spent at the checkout.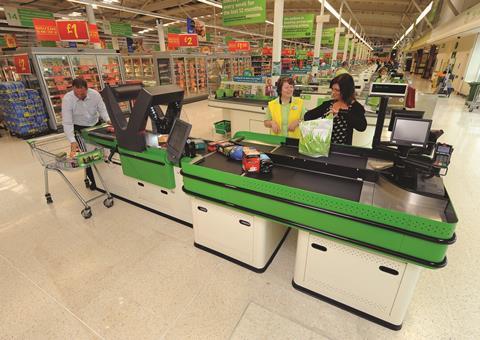 Why are we talking about this now?
Asda has started to test a 360-degree laser checkout at its York store. The system, called Rapid Scan, uses laser scanning technology that picks up barcodes from every angle and a conveyor belt to move groceries on to the bagging area. It also has a split final section, meaning two people can bag shopping simultaneously.
The grocer has a member of staff on hand to oversee the till and assist customers.
What are the advantages of Rapid Scan?
The system is designed to create a faster and more convenient shopping experience for busy customers.
Up to 100 products a minute can be scanned and it is three times faster than manual scanning. In addition, the twin belts speed up the process. Sarah Herrlein, senior retail technology analyst at Planet Retail, describes the technology as "groundbreaking" in the UK retail market.
Asda retail director Mark Ibbotson says: "Mums tell us one of the main things they want us to do is save them time. We're always looking at ways we can improve their shopping experience and Rapid Scan is a technological triumph in that area."
Asda says it will review customer and staff feedback before deciding whether to roll out the checkouts to other stores.
Do any other retailers offer a similar level of innovation at their checkouts?
Asda is the first UK retailer to introduce the automatic 360-degree scanner, which has been developed by German technology firm Wincor Nixdorf. Outside the UK, grocers Rewe in Germany, Dia in France and hypermarket chain ICA Gruppen in Sweden piloted the fully automated Rapid Scan scanners two years ago.
Sainsbury's is testing Scan & Go, which allows shoppers to scan their shopping on a smartphone, pack it as they go and pay the total at a regular checkout at the end of their shop. Asda owner Walmart has this service across more than 200 stores in 14 markets.
Meanwhile, customers of fashion retailers Oasis, Warehouse and Coast, as well as Karen Millen, can pay for items in store using their PayPal accounts through an app on their mobile phones.
These fashion retailers have been leading innovation in payment in the UK. They plan to introduce iPads that act as mobile point of sale systems in all of their European stores by the end of the year.